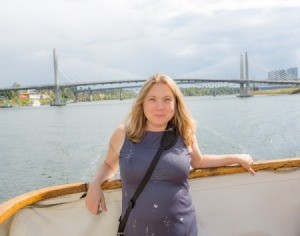 Last weekend, my sisters and I did some thrift shopping. We each left with clothes for ourselves or our family. I spent about $30 and fleshed out my fall wardrobe with two new skirts, a new dress, and a few other pieces. There is very little wear on any of them and the brand name quality is beyond what I normally can afford. My dresser and closet are overflowing with finds like these. I am often asked where I bought one thing or another. The answer is almost never as simple as just a department store.
I budget very little for clothes, with the major exception of shoes. Since I developed plantar fasciitis, I make sure to buy good brands with the proper orthotic support, like Dansko. Sometimes I have found fun shoes at a thrift store or garage sale with very little wear, but usually I buy new. I also buy new bras and underwear, except for occasional hand-me-downs from friends. Saving money on regular clothes shopping allows me to feel less guilty when I spend a little more on the nice shoes and bras.

Hand-Me-Downs
I have several friends who regularly give and receive with each other. It makes me happy to be reminded of the original owner every time I put on certain outfits. It also makes me happy to see them enjoying something that I may have outgrown or that never worked out for me. I have also attended "Trading Parties", where everyone brings their giveaway pile and returns home with a completely different pile. It's a great way to socialize as well as get some nice new additions to your closet.
Yard Sales
If you are looking for clothes during the summer months, be sure to check out the sales in your local area. Friday mornings are the best time to get a good selection, but coming at the end of a sale can result in discounts too. The sales can be hit or miss but sometimes you can get lucky and find many options in your size. One time I was able to get 5 pairs of gently worn jeans in my size for only 50¢ each. Don't be afraid to haggle, especially if you are getting several items. Just like your friends, people are usually happy that their cast-offs are going to a good home.

Thrift Stores
I am always surprised at the range of clothing options at our local thrift stores. There are rows and rows of almost any type of women's clothing you might be looking for; fancy dresses, fitness clothes, sleepware, etc. You can also find shoes, designer bags, belts and other accessories which might have been purchased full price only last year.
Sometimes items still have the original price tag from the original store. There are also men's and children's clothing but the selection is often much less. A good tip is to wear something like a tank top and yoga pants, so you can try on items rather than having to wait for a dressing room.
Clothing Stores
Occasionally, I will go to a discount department store like Nordstrom Rack or Marshall's, or pick something up that catches my eye at Costco or Fred Meyer. I still try to make sure it is a deal and something that is filling a need, knowing I have a bulging closet back at home. I also look through clearance bins and use coupons when possible.
The most important tip I have found about regular store shopping is to immediately return items that you don't love and to take advantage of the return/exchange policy. Recently, I took two bras back to Victoria's Secret, because the underwires came out.
They exchanged them for store credit, enough to buy me a needed new replacement bra. My sister was able to exchange her expensive Columbia sportswear jacket for a new one, because of uneven wearing on the sleeves. We are happy and the stores are also happy because we will continue to confidently buy their products.
The dress in the above picture was only a couple of dollars at the thrift store. I have received compliments every time I wear it. Happy Wise Shopping!