I have burnt a stainless steel saucepan. I had a little oil in the bottom of it and left it on the stove, it caught alight and now is quite burnt. I have tried cleaning it in the dishwasher to no avail. Please help.
By Janet
Answers:
Burnt Oil on a Stainless Steel Pan
Wow! I posted a response to similar question back in 06. I've been here for a while!

Sorry! I found an even better idea, is Bon Ami cleanser. Get some on a scrubby and scrub it away. The dishwasher doesn't work, it just heat sets it! But if I have some oil burnt on or some pans just looking not so shiny, I use the Bon Ami and it's better. It comes in a gold can, next to the powdered cleansers in the kitchen cleaning section. Cheap and works on your stove without scratching too! (05/06/2010)

By michawnpita
Burnt Oil on a Stainless Steel Pan
Try this: fill your pot with enough water to cover the burnt oil residue (if the stain is only on the bottom, an inch of water should be enough). Add 1 teaspoon of dishwasher powder or powdered laundry detergent (a bit more if using liquid detergent). Boil hard for 5-10 minutes, after which the oil should come off easily. I've found that this works well for many burnt veggies too, but alas not as well for burnt rice which requires a lot of elbow grease too. (05/07/2010)
By anlod
Burnt Oil on a Stainless Steel Pan
If Easy Off oven cleaner won't take it off, it won't come off. Try it. (05/07/2010)

By Ann Parker
patience
I've done this with steel pans and butter and it just takes a lot of soaking, with soaking time being correlated with how much oil residue is burned onto the pan. You'll need a steel wool or tough rubber scrubber. When soaking, put fill the pan with enough water to cover the bottom of the pan and raised residue with dish soap. Let sit for a day and then scrub with water and soap still in the pan. If you get most or some, but not all off, then repeat process. Adding dish soap is important as oil and water don't mix, you'll need the detergent affects to dislodge the hydrophobic oils. No worries, your pan is not lost, that is the wonder of stainless steel pans! (05/07/2010)
By wishsparkle
Burnt Oil on a Stainless Steel Pan
I use anlod's method only with dish soap or vinegar, and it works like a charm :-)

Please do not use oven cleaner on anything you're going to be cooking or storing food on/in! The materials are porous and the oven cleaner chemicals build up in those porous pockets. (05/07/2010)

By Deeli
Burnt Oil on a Stainless Steel Pan
Try a paste of salt, baking soda, and dish soap (Dawn)
and elbow grease : ) (05/12/2010)

By Carly34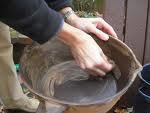 Burnt Oil on a Stainless Steel Pan
My husband sold stainless steel pots and pans of high quality for years. He said the way to clean them is to use Comet or Ajax with a brown paper bag. The bag is strong enough to cut whatever in on the pan.
I have kept my clean for over 40 years using this method. (07/13/2010)