I am researching info about these Hydrosil heaters. I currently have a houseful of the old electric style baseboards. They are efficient and I am able to keep my all electric household on a reasonable budget. I can't decide if I really need these new silicone replacements. Any feedback would be appreciated.
Rufus
Answers:
Hydrosil Heating Question
We've had a 5-ft. Hydrosil heater (110 volt) for around 14 yrs. The thermostat went out 3-4 yrs. ago, and a call to the company got a new one on its way with no cost to us.
We use the heater in an added-on porch room with 8 windows that is rarely used in the wintertime except for over-wintering plants and as a sleeping room for our outside dog in bad weather. This is our only source of heat in this room, and we keep it cool - around 55 degrees. We'd have preferred a 220 volt unit, but running a 220 line would have been difficult. We have been extremely pleased with our heater and would not hesitate to buy another one if needed. We live in Indiana (04/29/2008)

By Sharon
Hydrosil Heating Question
I had a hydrosil hardwired in my barn in the tack room and I love it - I live in Maine so it gets really cold. I have not had to turn the thermostat beyond 1 1/2 (goes 1-10). The heater keeps the room really toasty and doesn't dry out my leather riding tack like my old electric baseboard heater did and it's very cost effective. We are finishing a huge four season room that is about 900+ sq feet and are going to have hydrosil baseboards installed. The initial unit cost is more than a traditional baseboard unit but the savings on the utility bill and the quality of the heat is well worth it. (06/25/2008)

By LH
Hydrosil Heating Question
I bought one about 1995, and recently bought another for this past winter 2007-2008. Since the fins they replaced were circa-1960, the Hydrosil blew it out of the water in terms of heat, comfort, and electric bill. (07/12/2008)

By Roberta
Hydrosil Heating/cooling Question
I live in Minnesota and I am interested in Hydrosil ductless split system to heat and cool our basement. Can someone give me feedback on the latest product? (08/17/2008)

By ladoirie
Hydrosil Heating Question
I am stuck with two 6' Hydrosil Heaters and two upgraded thermostats due to the "NO RETURN/NO REFUND" policy. Within days of receiving our heaters we decided to go with central HVAC and so we didn't need them. They are still in the box and we would love for you to take them off our hand at any reasonable offer. Please post and I will reply. (08/17/2008)

By Amy
Hydrosil Heating Question
Amy, I am interested in the heaters and thermostats you have. Email me at pdscripture AT comcast.net, with a phone number and a good time to call, and we'll talk. I am located in NH. (08/24/2008)

Hydrosil Heating Question
I have an apartment with these units and they are the best units I have ever had, I am currently remodeling a house with electric heat and I just ordered $3,000 worth of units, I will write more when I receive them, but as of now they are worth the money and are an economical and very comfortable heat. (08/26/2008)

By John Augusta
Hydrosil Heating Question
Amy, Do you still have Hydrosil units? I am interested in buying them for a test project.
Reach me at 978 nine two two 5518 or email wpmact AT gmail dot com (08/31/2008)

By Wayne Miller
Hydrosil Heating Question
AMY, Do you still have your hydrosils available? I'm looking for 2 portable 5 fts. Please email me at Sam524mom AT yahoo.com and let me know if they are still available. Thanks, Katie (09/02/2008)

By Katie
Hydrosil Heating Question
Amy--If you still have your hydrosil units, please let me know: wcmjr53 AT aol.com. I'm also in NH. Thanks. (09/03/2008)

By Bill
Hydrosil Heating Question
Are the Hydrosil units UL Listed? Maybe I missed it but I didn't see that on the website. I'd be wary of installing any electric device that is not UL Listed in my home. Thanks. (10/06/2008)

By Andy5000
Hydrosil Heating Question
I was thinking of buying a couple hydrosils, then I found "Econo Heaters" and wow! They run cheaply! I bought 2 for less than $100.00 each. My den was so cold til I installed the first heater & then was always very warm & cozy. After a few months the switch started getting very hot & I contacted the company & they said they'd replace the entire unit but I had to pay the S&H & insurance so it was spendy.
They did send out a new unit immediately & so far that one has been ok, although you have to be extra careful of the flimsy switches. Next time, I think I'll get them hardwired & run a thermostat. They run for 3 cents an hour and the bonus (and original reason I bought one) was that they run on such low wattage that I no longer blew fuses, as I had when I was using other heaters.
I had tried a bunch of types & hated the noise, power surges, fan kicking in & lights flickering & then poof! Lol! So, the Econo heaters are excellent & I see they've recently improved them (I hope they improved the switches). I will definitely buy more and love that I can leave them on as long as I want & they make no discernible difference in my light bill. My old oil radiators really worked great but used so much electricity, and I HATE the electric heaters that kick on & blow, then kick off & suddenly the room's cold.
Those just suck up electricity and are not at all efficient & are major fire hazards. Try one Econo heater & I think you'll be hooked. One unit's supposed to heat a 10 X 10 room and they easily do. They make no sound at all. I have found that running a small fan is helpful for circulating the heat but you don't need to. This winter I will be using mine a LOT what with the high oil prices! I like the even-heat they provide.
Thanks to all who gave feedback on the Hydrosils. They sound great but they definitely use a lot more juice than Econo Heaters and much higher wattage. Plus, I'd hate to get a faulty unit & be unable to return it for a replacement. Stay snug Peeps. Check out the brutal icicles outside my window a few years back, yeck! Winter's coming, lol. (10/10/2008)
By South Dakota Chick...It's COLD here!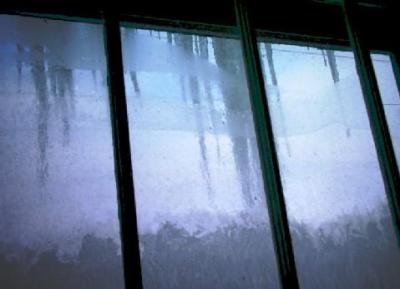 Hydrosil Heating Question
I have 3 Hydrosils and would buy them again. I don't have a drafty house but it cuts down on the oil bill. Keeps the house nice and warm. My wood stove is down in the basement, my husband is disabled and can't go down the stairs. It was the best investment I have made. I plan on purchasing another 5ft. I purchased the 3 back in 2005 and two of them were not heating, I called the company he said, "box and ship them back we will send you new ones. With in 2 weeks I had 2 new ones." Life time warranty. They run all the time, the basement gets damp and my husband needs the warmth. We live in the Finger Lakes Area. I love Hydrosil. (11/29/2008)

By Susan S.