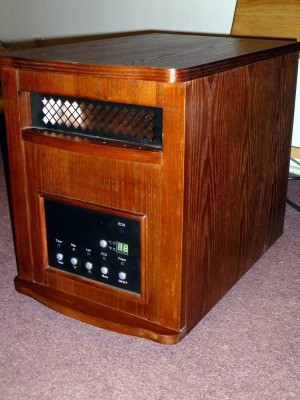 Product Review: Infrared Zone Heating System by LifeSmart
Model No.LS-PP1800-6WCH
$149.00 Free Shipping, ordered from tigerdirect.com
Our garage was converted into a den and during the winter, it was always the coldest room in the house. Every time I heard the house heater come on, I practically saw $$$ signs and would rather wear layers of clothing instead of keeping the house at a comfortable 76 degrees.
Before ordering this product, I did a lot of research and one of the main reasons I like it is, because it costs hardly anything to run and our home heater isn't working as hard. Besides heating up our den, it also heats up the kitchen and is now the warmest room in the entire house.
Not all heaters are created equal and the theory behind how Infrareds work can be found at:
I love how the actual heater does not get hot to the touch, which was a main concern since we have dogs. If the heater somehow got knocked over or in my case because I lost my balance and fell over it, it automatically shuts off. With wheels, it's easy to move about. It needs to be plugged into its own outlet or it will blow a breaker.
Last winter we used a smaller heater we had and it worked great, then I saw our electric bill was $250 higher than normal. I made it my mission to research heaters in general and the Infrared-heating was absolutely amazing.
The model we bought can supposedly heat up to 1800 SQ Feet and it's probably an over kill for our den but I am very happy with it. It doesn't replace our home heater, I guess it basically assists it and our den and kitchen areas are now very comfortable, to say the least.
The manual states you need at least 3 feet surrounding it. It took me all of an hour to get use to the hum it makes, which truly isn't that bad. It also comes with a remote control. I spent a good couple of weeks comparing prices before ordering from tigerdirect.com
I love the heater and am considering getting the smaller version for our bedroom. As I write this, it's 28 degrees outside and I'm toasty warm. If our house heater were to break down, the Infrared Heater would be more than enough to keep us warm until we got the house heater repaired. I am very grateful for this technology.
As an after thought I also read every review that I could find on it and know I made a well educated purchase.
Read More

Comments

Has anyone ever used a Sun Cloud heater? It's an electric heater that only costs 9 cents an hour to operate.

Here are the specs.

-Metal Cabinet
-safe for children and pets
-9 cents an hour in electricity use
-10 year warranty
-no flames, no fumes
-thermostat control
-lifetime washable filter
-super quiet
-16 x 18 x 24 - 45 lbs
-$495
Thanks for your input!
Misty from Wooster, Ohio
Answers
By Teresa (Guest Post)
October 6, 2008
0

found this helpful
I hope someone answers about this product soon as I am interested in it as well. I have never heard of it but would like to. Thanks, Teresa/VA
By (Guest Post)
October 6, 2008
0

found this helpful
I received ads from 3 different heaters today and each one does the same as the one you are talking about.Each one has a different name but does the same thing. They are priced from $279 to $479.But I don't have any other information on them. We are thinking about getting one, but don't know if cheaper or the higher priced one is better. Too many choices
By Tomatohanger (Guest Post)
October 6, 2008
0

found this helpful
Hi -- we are neighbors -- I'm in Canton
My bill from AEP last billing cycle was 10.2 cents per kilowatt/hour (KWH on your statement). I'm frugal -- I used 183 KWH and my bill was $18.65.
I recently checked out best-rated electric room heaters online. And bought one. I paid less than $50 for it -- with free shipping to my WalMart store. Generally, the most powerful common and popular electric room heaters are rated at 1500 watts max. That equals 1.5 KWH. Meaning it uses 1.5 KWH per hour -- which would cost me 15.4 cents per hour. 24 hours a day amounts to $3.70. 30 days a month equals $111.00. Also the 'High' 1500 watt setting draws 12.5 amps. A lot of home fuses or circuit breakers limit the current capacity to 15 amps in most rooms. Kitchens and laundry-room circuits are generally rated for more than that. Meaning that a more powerful heater than the one I purchased would blow fuses or cause circuit breakers to kick out in bedrooms, baths, etc.
You must decide if it will fit your budget. The 9 cents per hour you mentioned doesn't seem reasonable for a good heater. A cheap-o model could do that for you, maybe. I think I wouldn't be happy with it though. If you buy the heater tell us next spring how well it worked out for you.
I intend to use mine sparingly and try to balance my electricity bill against my gas bill. I have no idea if I can heat my place more cheaply that way than last winter with gas only --but I shall see.
Good Luck.
By booklady2228 (Guest Post)
October 7, 2008
0

found this helpful
My husband and I purchased one of these last year.
We have a 15' x 12' kitchen and it could not even heat that. 9 cents an hour!, plug it in and watch your electric meter run like crazy. My husband stood by the electric meter while I plugged it in, we let it run for about 1/2 hour, it used a lot of electricity. There is also a "re-stocking" fee of about $75.00 to return it. Hope this helps!
By Laura K (Guest Post)
October 9, 2008
1

found this helpful
I know that Sun Cloud is made by EdenPure, and it is the closest competitor to the company I work with. EdenPure is made in China & our products are all made in the USA. Our product is $395 and is fantastic. It's different from a traditional heater, so that's why the 9 cents an hour doesn't add up if you compare it to a typical heater. It's a safer heat source. I'm not going to try to sell on this site, so if you want more info, please contact me directly at lauraknox AT bellsouth.net
By Lisa (Guest Post)
October 23, 2008
0

found this helpful
I don't know about 9 cents an hour, but my mother bought us a Sun Cloud last year because we live in an older farm house and it is too large to heat and be comfortable. It does keep our furnace from running as much when the temperature is not extremely cold and when it gets really cold, it makes our house tolerable. It raised the electric, bill which was to be expected, and it might have cost an extra $40/month. I don't know if this helps, but it's the best I've got at this time. It is pretty quiet and we don't have to worry about the little ones touching it because the heater is not hot to touch. I am curious if you contacted Laura K about the heater she is retailing?
By bill (Guest Post)
December 10, 2008
0

found this helpful
Folks, its an electric heater pure and simple that uses heat lamps. It uses 1500 watts, same as most space heaters. There is no magic out there to get more heat from 1500 watts of electric. Buy a regular electric heater.
By Bill W. (Guest Post)
December 15, 2008
0

found this helpful
I bought one three years ago to augment my electric baseboard heat, and bought two more this year for my elderly mother. They do work well, and can save you money while heat distribution is more well disbursed than regular electric baseboard heat. Will they work for you?
You have to do the math and decide that for yourself.
Forget the 9 cents an hour that has been quoted here. It's really simple to decide how much the heater will cost you to run. Remember that electricity cost measurement is by the kilowatt/hour. A kilowatt/hour is the use of 1000 watts for one hour. Since the Sun Clouds use 1500 watts per hour (if they run constantly for one hour), then they use 1.5 kilowatt/hours of electricity every hour they are running.
If your electricity costs you 10 cents per kilowatt hour, then it will cost you 15 cents per hour to use. In 24 hours, at that rate, you would spend NO MORE THAN $3.60 every day you use the heater. In actuality, it will not cost you that much, as the units are thermostatically controlled, and usage is monitored by you, temperature being set by you, and your building efficiency will determine heat loss, and how often the unit kicks on.
So, you see, there are several key factors which will determine if these units will work well for you, or not? For me, they work just fine!
Oh yes, the manufacturers are good people to do business with, and back their product with service. I needed two lamps, and a thermostat for mine, (wear items) and they sent them to me, under warranty, without charge, and quickly.
By Hapaki (Guest Post)
January 9, 2009
0

found this helpful
I have 2. The fans are rather loud. If you buy just the metal cabinet heater without the wood cabinet enclosure, I wouldn't want children around it. One of mine has broken down twice and the warranty service department is not very responsive. Took 1 month to get replacement part after several phone calls. Rather pricey, I got a decent price on ebay, $400 for the Model C1500 which comes with the wood cabinet. I think there are some energy saving infrared heaters the are energy efficient and a lot cheaper and have no fan noise when sleeping. I recommend, do some shopping first.
By Realistic (Guest Post)
February 4, 2009
0

found this helpful
Folks, think about it. There is a maximum amount of HEAT that can be produced from an electric heater that is rated at 1500 watts of power. HEAT output from a heater is measured in BTUS. BTUS are what raises the temperature in a room. It does not make much difference how the BTUS are generated (infared bulbs, glowing wires, heated quartz, etc.) since the maximum BTU output at 1500 watts is 4500-5000 BTUS. It takes 9-10 electric heaters to equal the BTU output of a single kerosene (like kero-sun) heater. Notice how they (Sun Cloud, Eden Pure, etc.) don't tell you what the BTU output is of their heaters...because they are selling you something for $500 that does not produce more HEAT than a $20 cheapie. Instead, buy one of those fake fireplaces with the glowing logs...they are also rated at 1500 watts...producing the same amount of heat and they are pretty to look at!

February 4, 2009
0

found this helpful
Where can i find these heaters for sale? Intriguing about the low costs for electricity...still...1500 watts is 1500 watts!

February 22, 2009
0

found this helpful
Hello everyone. Just an update. I did buy one of these just over a month ago. I haven't got a new electric bill as of yet, so I'm not sure of any savings. I have noticed that once I plugged this one in and started using it, I was able to get rid of 2 space heaters! There will be some savings. I do have a third ceramic space heater in my bedroom (I live in a trailer, 60 feet long by 10 feet wide).
I CAN tell you that the heat is nice. We do not have a furnace at this time, and this has been warming the place nicely. It is safe for my animals to lie near or on and if they knock something over by it/in front of it; I do not have to worry. It's much safer than a regular space heater and that's what I was looking for.
I did send an email to the lady that told me about the other item, but never heard back from her. So I didn't pursue it. I know that the one I have is really nice and has a 10 year warranty. That covers the bulbs and anything else that happens in the first 10 years. I think that was a pretty good investment (at least for now).
Thank you everyone for your feedback. I'm glad I asked everyone. $450 was a lot to invest into a heater (for us), but it has been worth it in knowing that my 'babies' (dogs and cats) are safe and warm and that my husband and I do not have to worry about the mobile home burning down in our sleep.
Read More

Answers