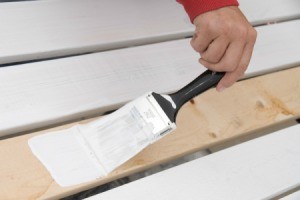 Product: Kilz Primer and Paint
Cost: About $25 for a gallon at Wal-Mart
By far, my favorite paint for all applications. It is a thicker paint, virtually eliminating drips. It covers wonderfully and fills minor cracks and holes. I love to paint and change my colors often and am pleased that quite often one coat does a great job of covering another color.
The Kilz Primer both oil and water base are my favorites also. If you have had a leak in your ceiling use Kilz Oil base primer then paint with water or oil base paint and you can forget the stain forever. I have used many brands and will stand behind Kilz to be the best out there that I have tried in my 40 years of painting. Try it you'll like it.
By Ann Winberg from Loup City, NE
Read More

Comments

What is the difference between Primer and Kilz? I am painting over paneling and also sheet rock, those will be painted with latex paint and the molding will be painted with oil based. Which should I use, primer or Kilz?
Priscilla from Zwolle
Answers

Marjorie
Silver Feedback Medal for All Time! 290 Feedbacks
February 26, 2008
0

found this helpful
The product is known as Kilz and is far superior to white primer. White primer is watery compared to Kilz. I refinished the kitchen cabinets in our last house.
I used 2 coats of Kilz to cover up the dark wood stain, then repainted the cabinets a beautiful turquoise blue. Kilz is a stain blocker whereas primer is not.

February 27, 2008
0

found this helpful
I was always taught that you can paint latex over latex, and oil over latex, but never latex over oil. If you are painting over raw wood for your moulding, I probably would use a primer as it is less expensive than Kilz and is a great smoother/sealer.
Kilz is a great product and is very good at blocking stains (like from rusty nails, knots in wood, etc.) and it can be tinted as well so that when you do paint over it you may be able to paint one less coat of paint. It is however considerably more expensive than primer and I probably wouldn't use it except in a problem situation.
By (Guest Post)
February 27, 2008
0

found this helpful
Kiltz is a painters blessing, it's hard to find something it won't cover as a primer, regular primers do what there designed to do, put a base down for the paint to adhere to, when the primer won't cover what's on the wall you dig out the Kiltz, lets say there grease, mildew or crayon marks on a wall, regular primer won't cover them,Kiltz will, it's a self binding primer meaning it adheres to it's self and will form a bridge over the area that won't cover with a water base primer, the stuff is Great but if you have a wall that is mildewed it would be best to find out why it is reather than just cover it up.
By elizabeth (Guest Post)
February 27, 2008
0

found this helpful
Kilz is better. i paint for a living and learned the lesson the hard way. never paint oil over latex or latex over oil unless u have kilzed it first. i only recommend the oil base kilz, especially if youre doing it on panelling. they say it's jsut as good, but it's not.
it will scrape off when u scratch it with your fingernail. You can paint oil or latex paint over the oil based kilz. Kilz blocks stain, smell, and anything else that doesn't need to come thru. best of luck to you. I would use the same on all the surfaces.

February 27, 2008
0

found this helpful
We were novices (never painted anything) when we moved into a 20 year old mobile home. EVERY room was dark paneled. Remember, if you paint over it, it will still look like paneling. Our office is that way and Kilz is the ONLY way to go. When we first painted it, we used a regular primer and had to use 3 coats of expensive paint to cover the paneling. When I painted a closet, I used Kilz and it made all the difference - one coat.
One room I spackled (bad move) another we used wall paper that is designed to cover paneling (great stuff) and in the kitchen we replaced it with sheet rock. Because the sheetrock is new, I found primer was alright because my paint is pastel - aqua. Just be sure to sand the seams well. Hope this helps. Liz

Pat Giles
Gold Feedback Medal for All Time! 791 Feedbacks
February 28, 2008
0

found this helpful
Kilz was designed for painting over water-damaged areas that might or might not contain mold. It kills mold, in other words. It probably is a very good primer, albeit an expensive one! Good luck and God bless you.

February 28, 2008
0

found this helpful
Thanks everyone. I bought all of my paint supplies yesturday and soon I will get to it!
By Hope (Guest Post)
June 24, 2008
0

found this helpful
I painted a bright color that I wanted to change the hardware store recommended Kilz. It did cover the bright color but there was a small bubble that I sand papered and the kilz and the other paint came off to the drywall.
It looked like wall paper peeling off how did this happen? hope AT itchoice.com
Answer

this Question