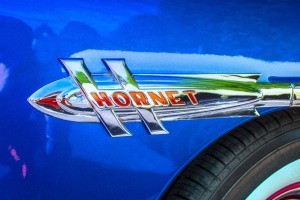 In my day, cars weren't as plentiful as they are today. To be sure, Ford, Hudson, Packard, and all the other makers could put a motor car in your possession the very day you were ready to buy one. Trouble was, not many people could afford to buy one.
Most small towns such as the one I grew up in, had several car dealers. Their lots with strings of light bulbs always seemed to have ready bargains. But car buyers . . . about as scarce as hen's teeth. Money was tight.
circa 1954
Man, that '51 Hudson Hornet down at Honest Joe's is one sweet dream machine. One owner, 49,000 miles and neat as a pin. Silver green, chrome for days, mini blinds on the rear window, and when you turn that baby over, she purrs like a kitten.
I just gotta get me a set of wheels. This double dating with Jimmy is for the birds. Don't get me wrong, Jimmy Lawson's my main man. He's a good friend and he'd give you the shirt off his back. But a guy's gotta have a little privacy.
Here we are on Saturday night at the Tarheel Drive In. We're in Jimmy's car. Well really, it's his old man's. Jimmy ain't got wheels, either. He's in the front seat with Bunny and I'm in the back seat with Sheila.
I don't think any of us know what the show's about. Well, maybe Bunny. She thinks the Stooges are so funny. She thinks everything's funny. And between giggles, she's always cracking that chewing gum. Lord, I wish she would give it a rest. She's the only person I know who can make love to a stick of Doublemint.
How's a guy supposed to pitch a little woo with his main squeeze when all that racket's goin' on? And Jimmy's dad might not let him use the car anymore if he finds another wad of Juicy Fruit stuck on his tuck and roll pleat seats. Can't say I'd blame him.
My boss man says he really likes my work. He says he's gonna put in a good word to the owner for me. Man, if I do get that quarter raise, I'll think I'm rich. That'll put me at a buck seventy-five an hour. I heard they ain't but a handful in the whole plant a makin' that much.
Heck, I wish they'd let you lay away a car the way they let the women lay away dresses at Sears and Roebuck's. A dollar down and a dollar a week. Only I'd do a lot better than that. Say, fifty down and twenty a week.
They say Honest Joe's a tough man to deal with. And too, they say if he likes you, he'll cut you a little slack. I figure he don't need the money any way. I heard those two Limos he's got in his showroom, the ones he won't sell or even let anybody touch, is where he hides thousands of dollars in the trunks of both, right down to the first penny he ever made.
Well, if Joe don't like banks, that's his business. It won't hurt to ask him something, though. I'm gonna see if he'll take fifty down on that Hornet. That oughta hold it for me for a couple weeks. I should have my first pay check with that quarter raise by then. Shucks, I might can go twenty-two, fifty a week. Get that title in my hand a whole lot sooner.
Yes sir, when the plant lets out Friday, I'm goin' down and talk to Joe. Him knowing my Dad might help, too. I know I can pull this off! And when Shiela finds out, she's gonna be tickled to death.
Just think, Haji Baba's coming to the drive in, in a couple of weeks. Sheila's dying to see that movie. It's got John Derek in it. It's about a lot of sword slinging and a lot of romancing. We can watch it alone, together. No more Bunny and her Beechnut.
Man, I got spaced out that time a car hop brought Cokes and pop corn from the concession stand. Bunny was giving a mouthful of Double Bubble all she had. She took it out to save in a wrapper til she finished her pop corn.
Well, she missed the wrapper, but not her bra. Bunny was a bit uhmm...buxom. She must have spent five minutes fishing around for a way to get that wad of bubble gum out of her bra in one piece. Her body heat had made it sorta limp and stringy. The car hop was just standing there google eyed.
When it looked like Bunny's going to unsnap her bra to get at that cud, he looses control and spills a sixteen ounce Coke right in Jimmy's lap. Bunny did get most of the Cheerwine she ordered but not where she wanted it. Ever seen somebody do a dance in the front seat of a car?
The Cheerwine with ice did harden the gum though, making Bunny's retrieval a breeze. Now, Bunny wants to go home early for a change, a change of clothing. Funny, that's the last time I heard her giggle that night.