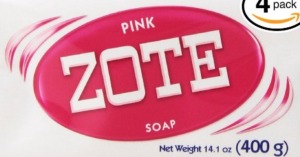 Where do you buy ZOTE soap?

Lana

Answers
February 7, 2009
0

found this helpful
We have a high latino population, and all of our stores carry it; Price cutter, save-a-lot, dollar general, even our walmart (which may be your best bet).
June 5, 2009
0

found this helpful
I found it at biglots for 80 cents a bar.
I found Octagon soap too but had to get it online.
September 12, 2009
0

found this helpful
I live in the south east USA and I get Octagon Soap at Wal-Mart supercenter for $.97. Our little home town Bi-Lo carries Zote soap for$.99. I just had to keep looking, near the bottom of the shelf. It seems like the big bright bottles overpower the individual bars of soap; so they're hard to spot!
November 11, 2009
0

found this helpful
I live in MI and my VG's store manager ordered it in for me. .57 a bar was a really great deal I thought.
October 3, 2013
0

found this helpful
I find Zote pink ir white at Walmart in Alcoa Tn. I use it for homemade laundry detergent when I run out of my soap. Fels Naptha works just as good as Zote, main thing is the difference in scent. Save lots of cash making your own laundry detergent. Put soap in frig, remove grate entire bar in cheese grater. Transfer to food processor.
Add 2 cups arm & hammer super washing powder (walmart) and 2 cups 20 mule team borax (walmart). Run processor long enough that grated soap is reduced to granular consistency. Store in a large plastic container thats airtight. In a super size load of regularly dirty laundry I use 2 Tablespoons of mix. If filthy I would use a bit more. Clothes come out clean with not much fragrance unless you add scent while processing. Clothes are soft even without fabric softener or dryer sheets.
I have used this combination for years and have never been embarassed by that stinky clothes smell. And thinking of the money I save plus removing harmful oil based chemicals from my everyday life, I can clearly see I come out ahead. I hope this info sparks someones interest. Thanks for reading.
December 14, 2017
0

found this helpful
where in Canada can I get Zote soap?
Answer

this Question