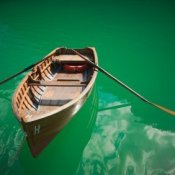 Question:
I am moving down near the water and I would like to buy a boat, ideally a motor boat. I was wondering if there is an eco-friendly way to go about this. Are their eco-friendly boats with motors? Any info or tips would be appreciated.
Thanks,
Stan
Answer:
Stan,
Whether you're moving to a place near saltwater or fresh water, it's a good time to buy a new boat! The most eco-friendly boats are still those that rely on humans or wind for power, but great strides have been made in the past few years in the development of cleaner-burning, more fuel-efficient boat motors as well as a surge in electric motors. Starting in 2006, the EPA will require all new gasoline boat engines to meet tougher emission guidelines. If you're buying a used boat and motor, look for 4-stroke engines or 2-stroke engines with direct fuel injection. These engines reduce air emissions by up to 75% and use from 35-50% less gasoline and 50% less oil. They are also easier to start and maintain, and less disruptive to wildlife due to quieter running engines.
Here is a link to a page that talks about electric boating (and using solar and wind to recharge batteries). This page also has numerous links to other sites on electric boating.www.econogics.com/ev/evboats.htm
Shop for high quality, well-made marine equipment that will last a long time.
For Eco-friendly boating practices-motor boat specific visit the Union of Concerned Scientists site on green motor boating. http://www.ucsusa.org/publications/greentips/704-good-clean-boating-fun.html