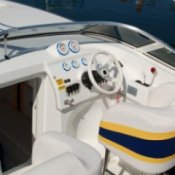 I have white seats in my boat that are black now. I tried Mean Green, bleach, and other stuff. Nothing will make them white again. Any suggestions?
By darlene from Carriere, MS
Answers

May 19, 2009
0

found this helpful
You might try Mr. Clean's Magic Eraser. I clean my outdoor furniture with them and they come out white again.

May 20, 2009
0

found this helpful
Krud Kutter will remove stains, no matter what they are. Available at Lowe's and the price has just been reduced! It runs about $12 a gallon, but works! Cleaned BBQ grille [sprayed on and let set], light scrubbing with brush and it looks new.
Removed black soot off painted wall with ease. The best cleaner on the market and is safe for washing clothes!

June 26, 2016
0

found this helpful
Yikes all those will dry the seats out. Use a small amount of laundry soap in hot water and a scrub brush

October 2, 2016
0

found this helpful
Mix baking soda, peroxide a and but of Dawn.

July 26, 2017
0

found this helpful
I used warm water, dawn dish soap and viniager the mildew and durt came right out.
June 26, 2018
0

found this helpful
What is the ratio of the dawn, vinager & water?

October 3, 2018
0

found this helpful
Try Pink away solution created by gestalt that removes mold with in 60 minutes.
Answer

this Question

I just bought a pontoon boat and it needs a bit of cleaning, but otherwise it is in great shape. It was docked under oak trees and the owner said that it was sap on the tops and edges of the seats from the trees. Does anyone have any ideas for cleaning the seats? I think they are just a vinyl seat material and the areas with the sap are white in color. Any suggestions? Thanks a bunch.
By Kathy L.
Answers

May 31, 2011
0

found this helpful
You might test cleaning an inconspicuous area with mineral spirits or mineral oil. Use a soft, terry towel, or wash cloth dampened with mineral spirits.
Tree sap can also be removed by using a water-soluble paint brush cleaner. A common household solution is bacon grease or lard. Just rub it on, and off comes the sap. To get tree sap off of your hands, simply rub mayonnaise on them and wash it off. To remove tree sap and other substances, you can use common solvents like lighter fluid, rubbing alcohol, WD-40 or even Skin-So-Soft bath oil.
The way to use those materials is to let them do their work of dissolving (in the case of alcohol) or softening (in the case of oils), enough to rub off the remaining sap. If you use the oil, wash the vinyl afterward.

May 31, 2011
0

found this helpful
Thanks Cajun for the suggestions! In fact, my husband mentioned about WD-40 right after I posted this question to the forum. He said it works wonders on lots of things. I will give some of the ideas a try and give my feedback on what worked the best.
Thanks again!

Suntydt
Bronze Feedback Medal for All Time! 109 Feedbacks
May 31, 2011
0

found this helpful
You may check an auto parts store in your area. When I worked in Pep Boys we had a cleaning solution for sale that was designed for cleaning sap and was recommended for vinyl roofs. Sorry I don't remember what it was called but I do remember a customer praising the heck out of it one day.
Now that I'm thinking about it the name may have been Tar and Sap Remover.

June 1, 2011
1

found this helpful
Try Goo Gone. Peanut butter takes gum out of hair, you could try that!

Marg
Bronze Feedback Medal for All Time! 107 Feedbacks
June 2, 2011
0

found this helpful
You'll be very surprised and pleased with Mr Clean magic Erasers!
Answer

this Question