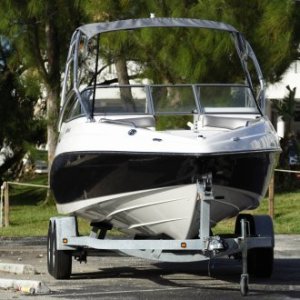 I am looking for tips about buying a used boat. I have never bought a boat before. What should I look for?

Thanks,
Jim

Answers
By Rose Mary B (Guest Post)
October 22, 2005
0

found this helpful
When looking for a boat earlier this year we discovered that many were pricey. One day my husbnd found one in our free newspaper, the price seemed great, 425 for a 14ft aluminmum boat and trailer. When my husband called the lady said if we came right then we could have it for 250.00. So we did, it was dark and knew it was old and also because of the price we knew it was old. The next day we noticed many things that it needed. So, we sanded and took off what paint was left on it, he sealed all areas with a special sealer for marine items and then we painted it and also replaced the board that the motor attaches to. Wow you should see it now. Lots of work later and a total of 375.00 for boat and trailer, it was worth it. So don't be affraid to get an old one and use some elbow grease on it. We are so happy with it and have used it often this summer. Caught many big fish this year. Happy hunting. By the way it is either a starcraft or lonestar boat, the marking were gone, but a man at the gas station said it looked great and he had one like it and was sure it was one of those. RoseMary B
By Jim (Guest Post)
December 5, 2005
0

found this helpful
Sorry for the delay in responding. This boat will be used on the Puget Sound in Washington. Mostly for drivng around and seeing the sites. Maybe some fishing.
By M. (Guest Post)
May 31, 2006
0

found this helpful
did you buy your boat? what was the primary intended purpose for your boat? fishing, living aboard, cruising?

April 25, 2008
0

found this helpful
From a mechanic.
1. get the mechanic or yours to check the level of each cylinder.
2. If an outboard act gently then pull the crap out of the engine. If the transome acts gummy dont buy.
3.Walk through the boat for "soft spots" or elevated fixed spots.
4. If outboards insist on a 10 minute test with the hoods off...they should be anyhay. make sure they are "pissing" / pumping water...well then after the show touch the side of the engine....just tap it....If you feel a serious burn from the tap...the cooling system is f'd up. It will be warm im talking 150F or over.
beecee
Answer

this Question