I have a lot of used CDs which I want to recycle making some attractive crafts. Could you suggest me some craft ideas which i can do using these CDs. I have 100s of CDs with me.
Thanks,
Anand from New Delhi, India
Answers:
CD Crafts
You can glue them to your wall or a big thick cardboard. and make a cool wall art. it would be great in a kids room. (02/07/2007)

By Mia.
CD Crafts
I also had many cd's. My friend is a "Lucy" lover. So I went online, cut & pasted pics of Lucy, Fred, Ethel, Rickey and put into my pictures. Then I used my cd labeling software and put the pics on the CDs. Makes pefect decoration on shower curtain/ring, hang on walls, etc. If you have an animal theme, put different pics of animals and place on lamps, etc (02/07/2007)
CD Crafts
If you crochet you can crochet two circles and put the CD in between the two circles and you have a coaster or potpad. Here is a pic of a Halloween one I did. (02/08/2007)

By Robin Mays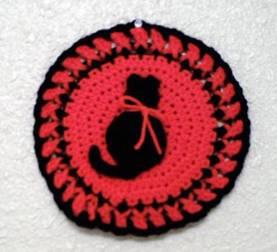 CD Crafts
I make twirlygigs by putting them back to back on fishing line with a loop for hanging using lots of hot glue between them - the whole yard is quite the spectacle when the sun is shining on them! I dont have to drill any holes. i like to do em 7 in a row. (02/08/2007)

By Lily 59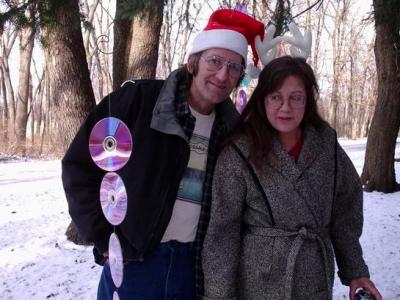 CD Crafts
Glue a CD on a painter canvas and decorate with squizz paint, in geometrical motives (eg. mandala) and you have a bright 'painting' to decorate any darker wall. A.Sylvia Sommer sylvia AT evadin.com.br (02/12/2007)

By TURUL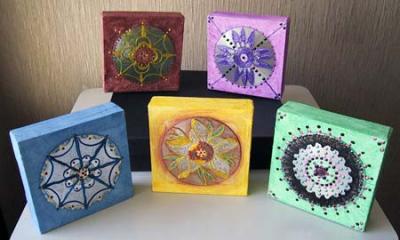 CD Crafts
I saw a program on TV where CDs were cut into mosaic pieces and used them to line a birdbath in the garden. It was beautiful, as all the colourful light was reflected. I want to do this project myself! (02/19/2007)

By Cathy
CD Crafts
Break them up using strong snips and gloves into smaller pieces and glue to a styrofoam ball, your choice of size, but I recommend at least 3" Add a hanging loop and you have your own disco ball! Be sure and glue the pieces shiny side up!! (03/14/2007)

By thriftmeg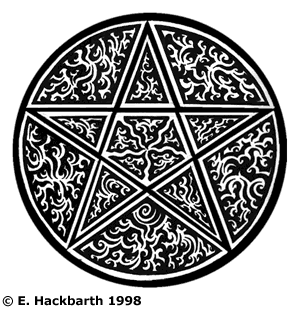 CD Crafts
You can use them as a little carpet for front doors, it will be easy to wash,
thanks
(04/11/2007)

By muslim
CD Crafts
They make great little clocks. At yard sales I look for frugal clocks and use the arms, etc on the CD. Also, use them for outside CHRISTMAS decorations. (07/11/2007)

By keeper60
CD Crafts
I've seen CD's used for the top of decorative windchime type items. you could drill small holes into the cd and tie string or thread, even fishing line through it. adding embelishments of your choice, charms, bells. or if you work with polymer clay you can handmake little suns moon or stars ( or anything you can imagine) and attach those to it. :) (10/16/2007)

By GROSJACQUES1