Does anyone know of crafts or uses for CD's?

Carmela
Answers:
CD Crafts
I use old CDs for making little figurines. You just take some heavy duty construction paper round it to a cone and stack CDs on that to make a tree or if you want to get creative you could make people and even more. I don't know your skill level so that would be your choice. (06/17/2008)
By Sadie
CD Crafts
I take the cds and place them flat on top a glass bowl, place them on a cookie sheet lined with foil, and place them in the oven at 300 degrees F for about 30 minutes. The time might vary depending on your stove. Check about every 10 minutes or so. The cd will melt over the bowl, but you can get some funny looking bowls.

It is better to do this in a well ventilated kitchen. Do not use a higher temp. You can paint them or whatever. I use them for candy dishes, small candle holders, jewelry holder for you girls, coin holder for loose change. I almost forgot I sand the cds down because it makes it easier to paint because sometimes all the writing doesn't melt.

Good luck. Angie (06/18/2008)

By pauley
CD Crafts
allfreecrafts.com CD Letter Holder
Recycle several cd's to hold notes or letters.
http://www.allfreecrafts.com/mothers-day/cd-letter-holder.shtml
Timmy the Turtle CD Magnet
http://www.allfreecrafts.com/kids/turtle-cd.shtml

Transform an old CD into a turtle fridge magnet. Recycled CD Memo Bunny
http://www.allfreecrafts.com/easter/recycled-cd-memo-bunny.shtml
Make an Easter bunny memo board from an old CD.

Here's some more to skim thru:
http://flickr.com/search/?q=cd%20craftsandw=all (06/19/2008)

CD Crafts
I use the old CD's for crafts at Church Camp. The kids can get really creative with Sharpie makers, paint, rubber stamps, and even big sculptures using hot glue. They like it since they can use lots of them and if they mess up they can just start over with a new one.

I have also made a wiggle wobble ladybug using the cd with a flat marble glued underneath. Decorate the top with a circle of paper and add a head. This was a little more involved, but the older kids seemed to like it. Hope this helps and keep those creative juices flowing. (06/20/2008)
By OkieLady
CD Crafts Angel Ornament
Here is my cd angel made from a half cd and a fourth of one. (10/08/2008)

By Lainey Lee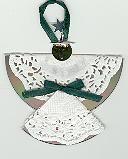 CD Crafts
Here is something I made out of CD's. (11/16/2008)

By Myra W.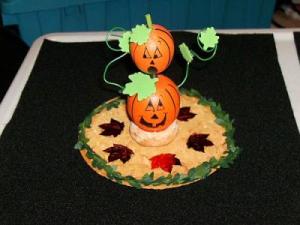 CD Crafts
Another CD project. (11/16/2008)

By Myra W.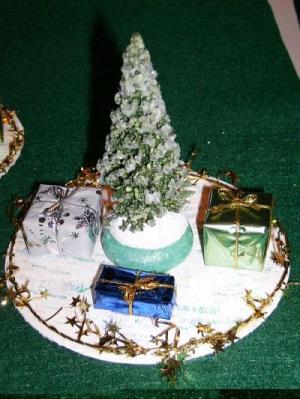 CD Crafts
Use a heat gun on the cd and it will distort into wonderful shapes, it looks like bubbled and cracked glass. Applying the heat to the text and grove side, it produces different effects and you can also mark or write on the grove side, although this turns into brown colour as the heat distorts the cd. I applied extra heat to the centre of the cd and it collapsed inward. You can mould this carefully whilst still hot. My little experiment with the heat gun produced a really "nice candle drip disc". There's probably many more uses of the heat gun. If you know, I would love to know. (06/20/2009)
By Annchristin
CD Crafts
Here's another link:
http://www.make-stuff.com/recycling/cd.html (06/20/2009)

By Annchristin