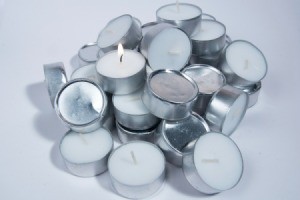 Today I cooked scrambled egg on toast and coffee, using two "burners", and had it all piping hot and delicious at the same time - I used the top of my kettle to keep the buttered toast hot whilst I was cooking the scrambled egg. You will normally be able to use one set of tealights for more than one cooking session, but, if reusing them, you need to watch carefully to ensure that they don't go out, thus slowing down your cooking.

Supplies:
Grill pan from your cooker, or roasting pan with cooling rack - rack needs to stand high enough so that standing a kettle or saucepan on it, with lit tealights underneath, does not extinguish the tealights.
14 unscented tealights to form one "burner" (mine were from Sainsbury's Basics range, 100 tealights for £3, but US readers can probably find something similar in WalMart)
A metal pan larger than your grill pan/roasting pan, which you can invert over it to cut off oxygen from tealights when you want to make sure of extinguishing them
A small kettle or saucepan (should fit on your rack with 2-3 in space all round)
Cook's tongs, small enough to move lit tealights around on tray.
Oven gloves
Steps:
Light one tealight using lighter or matches, then hold each of the others to it.
Assemble tealights in octagonal shape (1 row of three tealights, 2 rows of four tealights, 1 row of three tealights).
Place filled kettle or saucepan on rack over tealights. It will normally take about 30-45 minutes to boil a kettle.
If you are cooking a food which needs to boil and then simmer, you can reduce heat by using tongs to move some tealights away from saucepan. It is important not to use a saucepan or kettle with too great a diameter, because the base may reflect too much heat back to tealights, setting the wax on fire. Signs that this is happening are small curls of black smoke (not steam) coming from under edges of saucepan or kettle and/or a steady phut-phut-phut sound.
If this happens, have your large extra pan ready, lift away kettle or saucepan, and invert extra pan over flames to extinguish. Leave for ten minutes before lifting covering pan away; bear in mind that there may be a quantity of acrid black smoke when you lift pan away.
It is possible to make toast using this method - you will need a stainless steel plate or tray the right size to hold two slices of bread side by side (any bigger and you risk a pan fire - see above), and you will need to check the bread at frequent intervals. You may want to change the tealight assembly to a more oval shape in order to make toast.
Add your voice! Click below to comment. ThriftyFun is powered by your wisdom!
Add your voice! Click below to comment. ThriftyFun is powered by your wisdom!