Canning Cherries with a Hot Bath Canner
If a person wants to can cherries, there is one rule of thumb to follow. Taste one. Is it ripe enough? What do you want it to taste like? If it is firm and not too ripe, you have the cherry you will want to preserve. If you like to pick your own, you may go to an orchard to pick too. One hint: Call ahead and see if the weather is right and the orchard isn't too busy or have some problem with letting people pick that day.
Canning Equipment
water bath canner
canning set (funnel, tongs, lid lifter, and headspace measure)
jars
lids and bands
Fruit Fresh (prevents darkening of fruit)
thick towel
cherry pitter (optional)
To prepare the jars, they can be washed in a dishwasher if it has a sanitized cycle. The jars can be left in the dishwasher on a heat cycle. The lids need to be washed and left in the hot water. The canner needs to be filled so that there will be an inch of boiling water over the top of the jars.
Canning Cherries
To prepare the cherries, they need to be washed with no soap. They need to be pitted. There are several pitters on the internet. If you have an easy source of cherries, you may want to purchase the heavier model of pitter.
Cherries may be canned with the pits inside them. If you choose not to pit them, a prick needs to be made in the skin of the cherry so they won't burst. The cherries need to be dropped in cool water with lemon juice as the remainder are pitted.
Simple syrup should be made for the cherries unless you want to use water or apple juice. Simple syrup can be made with 2 cups of sugar to 4 cups of water. The sugar needs to be dissolved and the syrup bubbling. Add the cherries and cook about 5 minutes.
The cherries need to be placed in the jars with about 1/2 cup of syrup. Once the air bubbles are dispelled, the jar needs to be filled with the syrup or juice. There needs to be 1/2 inch headspace. The cherries need to be processed for 15 to 20 minutes.
Once the cherries are done, the jars need to be put on the towel on the counter. They need to be sitting upright.
Note: Use sweet cherries for jellies and jams and tart cherries for pie filling.
By Mary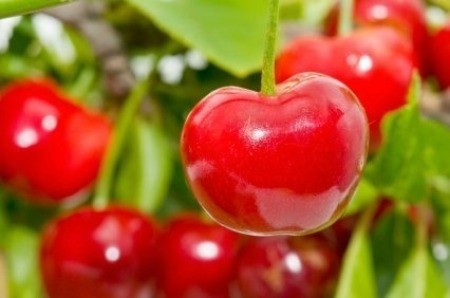 Add your voice! Click below to comment. ThriftyFun is powered by your wisdom!
Related Content