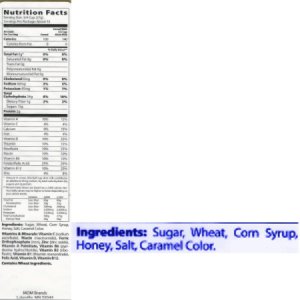 I've always read food labels. While I had no problems eating anything, I did tend to shy away from foods with a high salt content. Something else I looked for, particularly in meat products, was 'by products'. I avoided them entirely.
As we age, our bodies handle foods differently. Ingredients that were never a problem, before, can later have serious or life threatening effects on our bodies.
I tolerated salt quite well for most of my life. Things changed. Now that my heart does not pump as efficiently as it did, it has difficulty returning blood from the ankles and feet back to the heart. As a result, fluid tends to accumulate in my ankles and feet. This is one of the forms of edema.
Salt causes fluid retention in the body. More fluid that the heart must circulate throughout the body. One of the most often prescribed treatments for edema is reduction of salt intake. Less excess fluid in the body, less strain on the heart, less swelling of feet and ankles.
So now when reading Nutrition Facts labels, I pay closer attention to the salt content. At the grocery store, I picked up a bag of puffed wheat cereal and read the Nutrition Facts label. I found that the cereal contained far less sodium per serving than the oat cereal I sometimes buy. That coupled with the statement on the front of the bag, 'No High Fructose Corn Syrup', prompted me to put the cereal in my cart.
Two days later, I decided to try this cereal. With the bag claiming no high fructose corn syrup, I figured maybe the cereal was only lightly sweetened. I read the ingredients label to see how the cereal was sweetened. That would help me decide how much and what additional sweetener I would add, if any.
While I know nothing about the 'Truth In Advertising' laws as they pertain to food, it would seem to me, if a label states 'Sweetened Puffed Wheat Cereal', the package should contain more cereal, either by weight or volume, than any other ingredient. Not so with this cereal.
The first listed ingredient is sugar. The third ingredient listed is corn syrup, another form of sugar. The fourth ingredient listed is honey. I find the label highly deceptive. Perhaps it should read 'various sugars with puffed wheat'.
Many people are not aware of the importance of reading food ingredient labels. It hurts to think how many people with low paying jobs and several mouths to feed would purchase an item such as this, because it was a few pennies cheaper than other brands. They could think they were giving their children nutritious food before sending them to school, when in reality they were giving them sugar flavored with puffed wheat.
I urge all of you to read food labels more carefully. Don't stop with just the sodium or fat content listed in the Nutrition Facts label. Read the Ingredients label, as well. If you want sugar, go to the baking goods isle. If you want puffed wheat, you can find it in the cereal isle. You can buy a bag of puffed wheat with that being the only ingredient in the bag. It's cheaper than this bag of sugar being sold as a bag of cereal.
Years ago, I sort of coined the phrases: "The children of today will be the leaders and rulers of tomorrow. Be careful what you teach them".
To that, I might add: 'Be careful what you feed them, as well'.