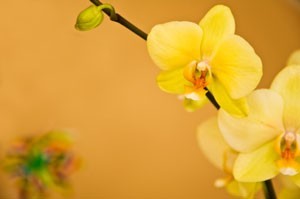 Question:
When do orchids stop blooming and how do you care for them in the winter?
Hardiness Zone: 6b
Rebekah from Shelbyville, KY
Answer:
How long an orchid blooms depends on what type of orchid it is. Some species will bloom for a day, others a few weeks, still others a few months. Some species bloom just once a year and others bloom several times per year. There are even species that will bloom continuously once they reach maturity. The majority of orchids, however, will bloom somewhere between a few weeks and a few months.
Winter care for orchids can be relatively simple, but care does vary a bit depending on the species you're growing. Your best bet is to try to find out exactly what type of orchid you have. Some orchids require a longer period of winter rest before blooming again. Certain species also like cooler nighttime temperatures. The best I can do is give you some general care advice.
Because there is less daylight available in the winter months, growth slows down. Do your best to keep offering bright (not direct) light. Depending on the species, you may need to supplement existing light with a few hours of artificial light. Less light also translates into the need for less food and less water. Most orchid growers back off on fertilizing over the winter.
Keep temperatures between 55F and 70F and protect your orchid from sudden swings in temperature. Keep you orchid away from heat vents and set the pot on a pebble tray filled with water to help maintain some humidity.
How often to water depends on the size of your pot and what type of growing medium you are using. The goal is to keep the compost damp, but not soggy. An easy way to determine moisture levels is to insert a pencil about an inch into the soil. If it looks or feels moist, there's no need to water. Here are some great orchid resources:
The American Orchid Society
http://www.aos.org/
The Kentucky Orchid Society
http://www.kyorchidsociety.org/
Good luck!
Ellen
By FrugalLynn (Guest Post)
December 7, 2007
0

found this helpful
I'm not sure what species of orchid you are asking about. There are some terrestrial orchids that grow in the wild -- they are commonly referred to as "Lady Slipper Orchids". Those can remain in the ground, and if you have merely happened upon them growing in the wild, leave them be. They are not only very difficult to transplant but some of these woodland orchids are protected by law.
If you are asking about other orchids, such as the more popular Cattleya, Phalaenopsis, or Dendrobium orchids, they must be kept indoors in the winter in your Zone. Each of these type of orchids have different optimum temperatures, so you need to be more specific. I grow many orchids in my greenhouse and will occasionally bring one indoors, but the humidity of a greenhouse is much better and easier to control than a home environment.
Don't know if I helped or confused you!