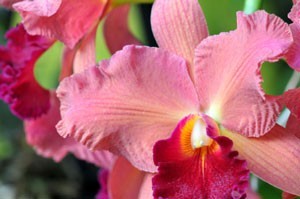 Question:
Does anyone know how to care for orchids? I got one as a gift a couple of days ago. It's beautiful, dark pink flowers, and it almost reaches my waist. I just don't know how to care for it.
Auntie Sandi from Montreal, Quebec
Answer:
Auntie Sandi,
What a wonderful gift! It sounds beautiful, too! The first thing I would recommend is finding out what type of orchid you have. If your orchid did not come with a plant label, use the resources below or ask the person who presented it to you where they bought it. If it was purchased at a nursery, contact the nursery for help in identifying it. Identification is important because different types of orchids sometimes have very different growing requirements. In any case, here are some general rules to follow:
Temperature: This is where the needs of some orchids really differ. As a rule, try to keep daytime temperatures around 70F in the summer and 60F in the winter. Cool nights are important for most orchids, so a drop in nighttime temperatures of approximately 10F is ideal. Always avoid cold drafts and sudden swings in temperature.
Light: Lots of bright (not direct!) sunlight is important. Orchids need 10-15 hours of light each day so plan to support them with some artificial lighting in the winter if necessary.
Humidity: Set you orchid's pot on a pebble tray filled with water and locate it in an area with good ventilation. It is fine to set your orchid outside in the summer on warm days, just make sure you protect it from direct sunlight.
Watering: As with most houseplants, orchids need consistently moist (not wet) compost. Filtered water is best (not distilled). Reduce the frequency of watering in the winter when light quality is lower. It is okay to let the top 1-inch of soil dry out between watering, but never let the pot dry out completely.
Feeding: There are several fertilizers formulated for orchids. Read and follow label directions carefully. Drastically reduce or eliminate feeding entirely during the winter.
Repotting: Orchids prefer to be somewhat pot-bound, so repot only every 3-4 years or when you start to notice an overall decline in the plant.
Here are some good resources:
Eastern Canada Orchid Society
Montréal, Québec
http://www.ecosorchids.ca/
Orchid Societies the USA and Canada
http://www.orchid.org.uk/orchidsocietiesusa.htm
Good Luck!
Ellen