June 14, 2011
0

found this helpful
Here are some tips that I learned from my parakeet Periwinkle:
Make sure the cage in not in a draft area. They like to have their food bowl blown out, which means, they will get the food out of it's "hull" and then leave the hull. I don't see this tip in much of the bird literature I read. IF you do not do this they will die of starvation, as they cannot get to the food underneath.
Change the water daily or more often.
Sometimes parakeets won't take a bath in a bath thing. I have a small spritzer I spray upward of them, and it falls down on them like rain. I don't do this a lot, and not on cold days.
My parakeet, who is named Periwinke, likes mirrors all over the cage, and toys I would get them toys from Drsfostersmith. com.
There are toys that stimulate their desire to forage. There is a toy on there where the bird pushes a button and it says a word or a tune. You don't have to buy them toys though, mirrors will make them happiest! Don't forget a trapeze. I have been wondering if mine would like a hanging house in the cage. I doubt it, he is happy with the trapeze and the mirrors all over. <3
Periwinkle loves to have part of his cage covered. Periwinkle is best friends with our Rooster, Phoenix, and his cage is on Phoenix the rooster's living area. They are best friends. I am glad you have two birds, they are so sweet and they love company.
The birds love treats, the ones that are long sprays of millet. This must be Periwinkle's favorite. Don't forget to softly blow on the birds bowl at least once or twice a day, to keep it ready and see how much food is left. :) I usually do it at night but I check on it every so often during the day,
Here are a few places for more information:
http://www.ehow et-healthy-diet.
http://www.wiki re-of-a-Parakeet
Blessings and tell them they are good darlings for me!
Robyn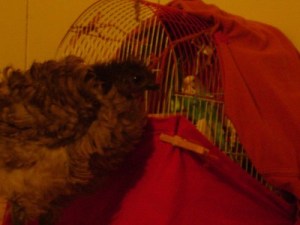 June 14, 2011
0

found this helpful
Our birds are fond of toys with bells they can ring and things they can easily grab in their beaks. Since you have two birds mirrors may not be the best; they can distract the birds from bonding with each other and may even cause arguments! Speaking of bonding, make sure you check on your birds' gender if you haven't already in case you get any little surprises. :-)
To really be healthy birds need more than just seed in their diet. You can buy vitamin-enriched birdseed or special bird vitamins which will help. Try to encourage them to nibble on fruit if you can. Make sure their cage is of a good enough size to let them spread their wings and get exercise. If it can be done safely letting them out for a couple hours a day is good, too. Having perches of different sizes helps to exercise their feet. Make sure they have a cuttlebone to trim their beaks on as birds like to chew. Have fun with your birds!