I would like to know about keeping a rolly pollie as a pet. I mostly want to know what to feed him. He's in a cage and has a name, I just want to know what to feed them.
Lindsay from Hollister, CA
Answers
By sandy (Guest Post)
June 16, 2006
0

found this helpful
do you mean the little insect?? or is there something else i dont know about.
By (Guest Post)
June 16, 2006
1

found this helpful
Hi, They eat my vegetable plants, so they must like salad greens. Loretta

June 16, 2006
0

found this helpful
I would love to send you some Pill Bugs that keep
coming into my home. Are you keeping them it in an aquariam or? I would think teeny tiny pieces of
bread or just crumbs. Good luck.

susan
Silver Feedback Medal for All Time! 472 Feedbacks
June 17, 2006
0

found this helpful
Keep the environment like they live in outside--cool, dark, and damp. I'd make sure there was some dirt, some plants, and old food (roly-polys sure like my compost pile) like part of an apple core or lettuce leaves. Remember to keep things damp and/or give a water source. My son used to collect these when he was small.

June 19, 2006
0

found this helpful
Just an interesting fact--they're not "bugs" at all. They're actually crustaceans--more closely related to a crab than a ladybug!
Here is some information about pill bugs:
Pill Bug/Sow Bug: Order Isopoda
Appearance: Not more than 3/4 inch long; thorax composed of seven hard overlapping plates with seven pairs of legs; only pillbugs are able to roll up into a ball.
Habits: Prefer moist locations; found under objects on damp ground; mostly nocturnal; sometimes found in basements and ground levels of structures.
Diet: Decaying vegetable matter.
Reproduction: Female gives birth to between 24 and 28 young per brood; usually on e to three generations a year; may live as long as two years.
Other Criteria: Pillbugs and related sowbugs are the only crustaceans that have become completely adapted to living their whole life on land.
By Betty Watson (Guest Post)
June 24, 2006
0

found this helpful
The baby pill bug look like dandrif, but they crawl. And are a yellowish white color.

June 30, 2006
0

found this helpful
my sister use to collect them, they never seemed to live very long. I would feed them the veggies you dont want to eat for supper!
By Fred (Guest Post)
March 26, 2008
0

found this helpful
I love Rolly-pollys!
By sydney (Guest Post)
March 28, 2008
0

found this helpful
were exactly to pill bugs live outside?

May 14, 2009
0

found this helpful
They at live plants vegetables leaves, best to get a bottle cap and fill it with water for it to drink from, and also how to tell a male from a female: the female has tiny pouches in her legs to store eggs and males don't. They also like damp areas I have my own pill bug farm and they're doing fine.

November 18, 2009
1

found this helpful
Guess what if a rollie pollie is blue or purpley it is sick. They are dormant in the winter. and breath through gill like things! *le gasp*!

Read More

Answers
My son's pet rolly polly just had a baby and I don't know what to do. Please help me. I don't want to let them go cuz my son's heart would break.
By Sam from Seattle, WA
Answers

March 11, 2013
0

found this helpful
I love pill bugs! Here are some links to information on their care. Also consider looking up caring for a cricket. It might easier to care for a cricket than a roly poly, and crickets if you get the male ones sing as well.
Here is the info on rolly pollies:
www.ehow.com/how_7643197_care-rolly-polly.html
answers.yahoo.com/.../index?qid=20080317154856AAKkqxB
Here is some info on keeping crickets and you can even breed them and sell them to owners of spiders and snakes.
www.ehow.com/how_5645279_keep-cricket-pet.html
I had a cricket as a pet and they are very interesting. I kept mine in a fish aquarium without the water. I watched as it molted and it was very interesting.
Read More

Answers
What do roly-polys eat?

Answers

July 15, 2008
0

found this helpful
They eat the organic matter in rotting logs and potting soil. They need to be kept moist but not wet.

Monique
Bronze Post Medal for All Time! 124 Posts
July 15, 2008
0

found this helpful
Hello, sorry but what are Roly-Poly's please?
Editor's Note The pill bug (also called the wood louse and the roly-poly bug) is a small, segmented land creature that can roll into a tiny ball for protection.

July 15, 2008
0

found this helpful
Just as a matter of curiosity; roly-polies are a crustacean, not bugs (even though we still call them bugs!) They are more closely related to shrimp and crabs than bugs! I just thought that was a fun fact when I first learned it!

Dena Roberts
Bronze Feedback Medal for All Time! 102 Feedbacks
July 17, 2008
0

found this helpful
We call them "sow bugs", although I have no idea why!
Read More

Answers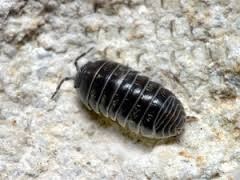 I have three rollie pollies in a 6 and 1/4 inch bug cage. I have no idea how to take care of them, we dug dirt and grass, then some leaves, otherwise, I'm totally clueless!
By Maddy W.
Read More

Answers

How do roly polys develop over time? How do they get the shells on the outside? Recently my daughter and I found a roly poly that was having babies. The babies came out of the top area and the roly poly used her 2 top legs to push out the babies.
They look like little whitish yellow roly polies the size of a flea that move around with legs. She had about 20 babies and just dropped them off to fend for themselves. What happens next?
By shauna from San Diego, CA
Answers

April 22, 2010
0

found this helpful
Wow, that's a neat thing to see happen! How did you notice it? (I'm betting it was your daughter who noticed. I know MY daughter takes the time to see those little details, while I'm busy with other things!)
I don't know about their life cycle, but I did a quick search, and maybe these two links will help:
www.enchantedlearning.com/.../Pillbugprintout.shtml
ohioline.osu.edu/.../2072.html
In particular, there is a paragraph in that second link called "Life Cycle and Habits." It will explain what you and your daughter witnessed.
It's cool that you and your daughter got to watch that together. A couple years ago we had a praying mantis camped out on our front storm door. I think it was a good place to catch bugs at night (the porch light comes on when it gets dark). One evening, we got to watch him shed his old skin/exoskeleton. It was really neat, and she still remembers it. Good times! :-)
Answer

this Question