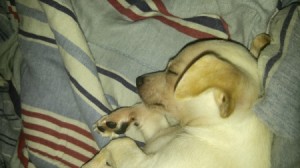 I have a eight week old Chihuahua who I named Jax. About two days after I got Jax I noticed that he was acting like he was trying to throw up, but I didn't pay much attention to it because I just thought it was a puppy, you know. But the next day I had put him in the bathroom and when we came back from the store he had diarrhea and vomit everywhere so I took him to the vet that night and they had said he had parvo, but the whole thing is a little sketchy and if you ask me. I took him to another vet who said he may just have a little upset stomach from the stress of being in a different home.
They sent me home with three different kinds of medicine and two different kinds of dog food to try. As of two days ago he had not vomited anymore and as of, probably 24 hours ago has had not had any kind of diarrhea. His fever is down, his stomach is no longer swollen, and he is not dehydrated.
I have been syringe feeding him, but he still will not eat on his own nor drink on his own. He still seems a little weak and has no interest in anything. Since he is not showing any signs of diarrhea, vomiting, or the fever anymore, can you please tell me why he may still be weak?