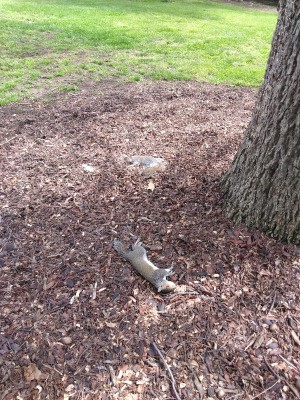 We have recently found about 15 dead squirrels in the same spot under an oak tree. There are no visible markings or swelling on them. They look perfectly healthy. There are no power lines, and no pets anywhere close to this area. I've called animal control and they forwarded this information to our local biologist. But we are still waiting to hear from them. There are currently 2 dead squirrels within 2 feet of each other. This happened within the last 3 hours or so. The only predators I've seen in the yard are copperheads. But again, there is no visible markings on them. Any ideas?

Answers

Iceskater
Silver Answer Medal for All Time! 320 Answers
April 27, 2018
0

found this helpful
Best Answer
Unfortunately, the most likely explanation is that someone is deliberately poisoning them.

15mhhm15
Diamond Post Medal for All Time! 1,298 Posts
April 27, 2018
1

found this helpful
Best Answer
I read on a University page online some thoughts of why squirrels that are healthy can be dead is that someone is poisoning them.
Another mentioned "a cold winter is ahead trees produce a chemical that will help the tree survive the cold and it is passed on to the acorns"
web.extension.illinois.edu/.../thisQuestion.cfm?ThreadID=20436&catID...
Answer

this Question

This about squirrels so don't know if having this under pets is quite right but it was the best I could find...

So basically last week a dead squirrel appeared on our front lawn. When we moved him we noticed there was no sign of any injury on him. He looked very healthy.
A week later and another squirrel has died in exactly the same place on the lawn, looking healthy and again no injuries.
I can't think that there's anything in our garden that would poison him or kill him. We are baffled. We've lived here for 4 years and it's never happened before!
I don't want the squirrels to keep on dying so does anyone have any ideas what's happening?
Hea from UK
Answers

September 27, 2007
0

found this helpful
Best Answer
Squirrels can have diseases and viral diseases just like humans. There is a "poxlike" disease which left lesions on the fur that I saw as a child when my dad hunted squirrel. West Nile virus has also been found in the squirrel population. They are into everything and also are sometimes victims of electrocution if you have power lines there. And sometimes mean people do mean things so even though you are good to them and worried about them, your neighbors might not be. We have had cases of people putting antifreeze (like the kind in your car) in food or rat poison in food for animals.
The antifreeze causes alcohol poisoning and the rat poison is a blood thinner which takes awhile but causes death. People can be so mean. A vet can do an autopsy. In the US we have Wildlife Officers but I don't know the resources in the UK. Good luck with your problem. I hope you have no more dead squirrels. If you have your own pets make sure they don't have any contact with the squirrels just in case.
By mary (Guest Post)
September 28, 2007
0

found this helpful
Best Answer
Contact your police or humane society's animal control division. Also, contact your county Cooperative Extension Service. It doesn't sound like sickness. Is there a high tree they may have fallen from in that spot? I would be extremely wary and watchful of this situation. Lyme disease comes to mind (tick-borne). Also West Nile.

October 14, 2012
0

found this helpful
Best Answer
I had an adult squirrel dead on my lawn last week with a small mark on his neck. I have many squirrels and last year one fell about 30 feet from a huge beech tree and a good deal of screaming had gone on before that.
My neighbor said that he saw the opossum in the tree at that time. I have posted about this problem in the past when he killed my small cat and ate most of her. Keep an eye out for these large animals and they should be removed by animal control if they are settling in to your garage.
Answer

this Question