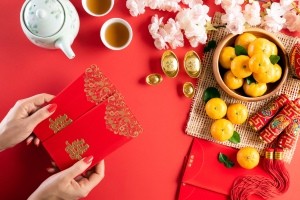 Lunar or Chinese New Year is celebrated worldwide, but especially in China and surrounding Asian countries. This important festival has been celebrated in China for over 2000 years, spreading to the other countries as did Chinese culture and language during that time. It is referred to by other names depending on the region and language; Spring Festival or Chnjié (China), Tết (Vietnam), Seollal (Korea), Tsagaan Sar (Mongolia) and many more.
This holiday is celebrated in late January or February, based on the lunar calendar. This is an ancient calendar system that is still used in many cultures today. Arabic and Hebrew calendars use a lunar calendar for tracking their own holidays and even the Christian holiday of Easter is calculated by the moon. For Lunar New Year, it starts with the second new moon after the winter solstice (December 21st on the Gregorian calendar) and the celebration continues until the full moon. This year (2022), it is celebrated from February 1st to February 15th.
Each year is assigned to one of twelve animals in the zodiac, and people born under that sign are said to share traits with that animal. 2022 is the Year of the Tiger, who's traits are courage, leadership and assertiveness. But there is an additional complexity added with the addition of the 5 natural elements being assigned as well. So this makes 2022 the Year of the Water Tiger, adding flexibility and family connections as additional traits. These are assigned on a 60 year cycle. The last Water Tiger was in 1962 and the next one will be in 2082.
Here is a list of the next 12 years and the associated animals and elements:

Tiger (Water)

2023 - Rabbit or Cat (Water)

2024 - Dragon (Wood)

2025 - Snake (Wood)

2026 - Horse (Fire)

2027 - Goat (Fire)

2028 - Monkey (Earth)

2029 - Rooster (Earth)

2030 - Dog (Metal)

2031 - Pig (Metal)

2032 - Rat (Water)

2033 - Ox or Buffalo (Water)

2034 - Tiger (Wood)
Lunar New Year is described as Thanksgiving, Christmas and New Year all combined together. It is a celebration of the coming of spring and warm weather, focusing on family, honoring ancestors and prosperity for the new year. Some common traditions are to clean the house thoroughly before the celebration to sweep away the old to leave room for good luck. People buy new clothing to wear and give money gifts in bright red paper envelopes. Clothing and decorations are often in red and colorful lanterns and fireworks add light to the dark winter nights. Special traditional foods are prepared to bring good luck, like dumplings, noodles or sweets. And there is usually a Lantern Festival for the full moon at the end of the holiday, even in the U.S. if you live in an area with a Chinatown or Little Saigon.
Have you ever celebrated Lunar or Chinese New Year? Please share your experiences with us too.