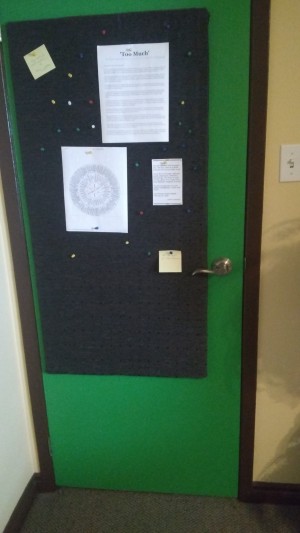 With post-it and memo notes all over my computer monitor and on my wall, my home office was rather cluttered looking. I needed a large board (cork?) but from Staples or an online vendor it would cost me $35 plus. Ingenuity came to the rescue.
At Lowes, I bought a 24 inch by 96 inch sheet of 1/2 inch thick styrofoam, costing $10.49. I cut it in half lengthwise so had a board 48 inches long that I planned to use, keeping the other half for another use someday.
At Value Village, I found a solid colored shower curtain for $1.50. I cut it to fit the front side of the board, wrapping an inch around to the back side and securing it with duct tape.
My new board looked good and was ready to hang. I affixed my new push pin board to the door using 2 sided tape.
Voila! I have a cheap board that's out of sight and does the job it's meant to do.