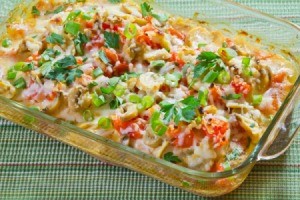 This recipe uses ingredients that are usually found in your cupboard and it makes enough for a crowd or leftovers. Perfect comfort food for these cold winter evenings!
Ingredients:
6-8 chicken skinless chicken thighs, bone in
1 tsp. sea salt (or to taste)
1 tsp. coarse ground black pepper
1 tsp. basil
1 cup coarsely grated Parmesan cheese
1/2 cup shredded sharp cheddar cheese
1 can cream of mushroom soup
1/3 cup sour cream
1 tsp. soy sauce
1/2 cup water
1/2 cup milk
3 tsp. chopped black olives
2 cups jasmine rice (any rice will do, but we love the flavor of this one)
1 can French onion topping
Directions:
Preheat oven to 400 degrees F. Place chicken in casserole dish. Combine salt, pepper and basil in a small bowl, sprinkle over chicken. Bake 20 minutes.
In the meantime, blend soup with sour cream and water. Gradually add milk. Add Parmesan cheese, soy sauce, and olives. Add rice and mix thoroughly. When chicken has cooked 20 minutes, remove and pour over the top, spreading evenly. Sprinkle with french onions, then add sharp cheese. Cover with foil, reduce heat to 350 degrees F, and cook 40 minutes. Remove foil and let set for 10 minutes. Enjoy!
Servings:
6
Time:
15 Minutes Preparation Time
60 Minutes Cooking Time
Source: This is my recipe, which I have altered many times over the year until I finally got the results my family loves most. I hope you will love it, too!
By Carol from Lebanon, TN
Read More

Comments