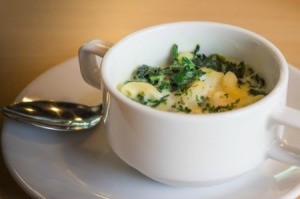 This is my healthier take on Mac and Cheese. The best part is that it gets some veggies in, too, in a very painless and yummy way. My family loves it!
Ingredients:
2 cups uncooked whole wheat elbow macaroni, rotini, shells, or whatever pasta shape you like
2 Tbsp. I Can't Believe It's Not Butter or another type of heart-healthy spread
1/3 cup onion, minced (or more, if you like onion)
1/4 cup all-purpose flour
1/2 tsp. salt (opt)
1/4 tsp. pepper
1/2 tsp mustard (I use spicy or Dijon)
1/4 tsp. Worcestershire sauce
2 cups fat-free (skim) milk
1 1/2 cups reduced-fat shredded or cubed mild/medium Cheddar cheese (6 oz.), though you could use another type, such as Monterrey jack, just as easily
1 (10 oz.) package frozen spinach, thawed and drained
1/2 sleeve low fat/low-salt Ritz-type crackers, crumbled (optional)
Directions:
Heat oven to 350 degrees F.
Cook macaroni as directed on package. While macaroni is cooking, melt margarine in 3-quart saucepan over low heat. DO NOT LET BURN. Stir in flour, salt, pepper, mustard and Worcestershire sauce. When thoroughly mixed, add onion and stir. Continue to cook over medium low heat, stirring constantly, until mixture is smooth and bubbly and onions are translucent; remove from heat.
Stir in milk. Heat to boiling, stirring constantly. Boil and stir 1 minute. Remove from heat; stir in cheese. Cook, stirring occasionally, until cheese is melted. Add spinach and stir until thoroughly incorporated into sauce.
Drain macaroni. Gently stir macaroni into cheese sauce. Pour into ungreased 9x13 inch casserole. Bake uncovered 20 to 25 minutes or until brown and bubbly. Top with crumbled crackers; allow five minutes to cool and warm crackers before serving.
Makes 4-6 servings as an entree, more if you use as a side dish.
Source: Started with a Betty Crocker recipe
By Sarah W. from East Lansing, MI