I am looking for easy and good recipe for chicken pot pie.
Cucumberlady from Canada
Answers:
Chicken Pot Pie Recipe
Such good ideas!
I think seasoning chicken is difficult so every suggestion is worth checking out.
I suggest the addition of fine chopped onions and celery-- makes the difference! I use the inner leaves of celery chopped.
Another suggestion. I eat a lot of salads and have many celery "hearts" to use. I chop the leaves and dry them on a screen made of window screen and small pieces of wood around like a window-- I put the celery leaves on the screen and place it on top of my refrigerator using canned goods to elevate for air circulation. The leaves are completely dry in 24 hours due to the dryness of the house and the air circulation from the refrigerator. I bottle or bag the leaves and use them year round.
good luck (01/27/2007)

By 2oma
Chicken Pot Pie Recipe
Boil chicken legs or thighs with onion, carrot and celery for several hours on low heat. Remove the bones. (I cool the carrot and celery to feed to the dog, Bijou. I portion out the meat and broth into containers as there's only two in our house.) Then make a batch of pie crust. Make a single pie crust for each person. Roll out and bake on a cookie sheet until golden brown. Meanwhile, heat the chicken and broth to boiling. Add frozen or canned mixed veggies (peas, carrots, corn, green beans, potatoes, etc), and a bit of cream or milk mixed with cornstarch. Cook until thickened. Add salt, pepper, garlic, thyme, parsley, sage, etc. Break up pie crust on a big plate. Top with lots and lots of gravy. Enjoy. (01/29/2007)
By thriftyboo
Chicken Pot Pie Recipe
Chicken Pot Pie
Boil Chicken breast and cut into small pieces.
In a mixing bowl, combine 2 cans of cream of chicken soup and 1 large can of mixed vegetables and then stir in cooked chicken pieces. Pour all of this mixture into a 9 x 13 glass baking dish. Combine 1 stick of melted butter, 1 cup of self-rising flour, and 1 cup of milk, wisk together to mix well, some lumps are ok. Pour over the top of mixture in the baking dish and bake at 350 degrees until crust is golden brown...enjoy! (01/30/2007)

By abtallent
Chicken Pot Pie Recipe w/ puff pastry
1/4 cup butter or margarine
1/2 cup chopped onion
1/4 cup all-purpose flour
1/2 tsp poultry seasoning
Salt & pepper to taste
1 cup chicken broth
3/4 cup milk or light cream
2-3/4 cups cut-up cooked chicken or turkey
1-1/2 cups frozen mixed vegetables thawed
frozen puff pastry
Thaw pastry according to package directions.
Heat butter in a large saucepan. Cook onion in butter until tender-crisp. Add flour and seasonings, mixing until smooth. Gradually stir in broth and milk. Cook, stirring constantly, over medium heat until mixture comes to a boil and is smoothly thickened. Stir in chicken and vegetables. Cool slightly. Spoon into a 9"x 13" baking dish. Roll out puff pastry to fit baking dish and place over filling. Place pie on a piece of aluminum foil to catch drips. Bake on lower oven rack at 450*F for 10 minutes, then reduce temperature to 350*F and continue baking 30-35 minutes or until crust is golden and filling is bubbly.

Note: I will boil chicken breasts if I don't have cooked chicken on hand; debone and dice.
You don't have to add frozen vegetables to this dish you can also use fresh vegetables. I even add mushrooms.
My picture shows two 9"x9" pies because my 9"x 13" dish was busy. You could always freeze one for later. Enjoy
(01/31/2007)
By biffy62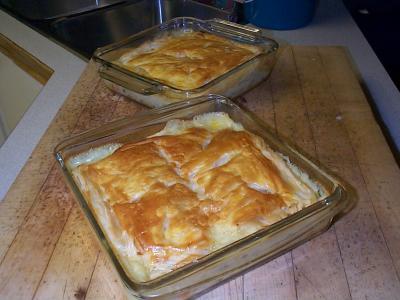 Chicken Pot Pie Recipe
That's the same one I use, imaqt1962. I use canned chicken and add some sage to the filling. Also, I often substitute cream of whatever-I-have-on-hand (mushroom, chicken, potato, etc).
(01/31/2007)

By jc42
Chicken Pot Pie Recipe
I've been making this for a long time now and is a hit every single time. I know this is weird but it makes a great dish for a funeral or if someone is sick.
5 skinless/boneless chicken tenders
1 big can veg-all
bag of instant rice
1 can Cream of Chicken soup
Frozen pie Crust
I boil the chicken with garlic salt till done. Lay out your pie crust 5-10 mins to defrost. In a bowl mix chopped up chicken, veg-all, soup and cooked rice. Add salt & pepper to taste. Place one of the pie crust in round casserole pan or a deep dish pie plate. Empty chicken mixture in dish and top with other crust. Poke some holes in top crust and bake in oven according to pie shell instructions. I think its 375 for about 25 mins.
Very easy and inexpensive!!
*Instead of pie crust some people put drop biscuits on top*
(02/01/2007)