I have a small Chihuahua and I need patterns to make coats, clothes, maybe some booties. He's cold all the time. Are there some websites that have free ones? I've checked some. Any help would be great.

Thanks!
Morningloryrose from North Carolina
Answers
By Susan (Guest Post)
June 2, 2006
1

found this helpful
If you find any, could you please let me know too. I can't find anything small enough. She's only 2 pounds and tiny as can be. Everything I've found sofar is too big :(
By Rita (Guest Post)
December 2, 2006
0

found this helpful
This one worked for me!
www.sewing.circleofcrafters.com/freepetvestpattern.html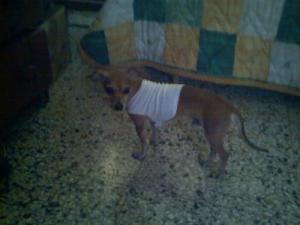 By Dot Wescom (Guest Post)
March 28, 2007
0

found this helpful
I found that when carmi was small (1 mo ) that a nice warm stocking cut off at the heel, made an excellent body warmer. and I stitched around the bottom so that it would not unravel. it worked great. also an old turtleneck sleeve, using the cuff as the collar, I cut 2 holes for the legs and presto another dress.
hope this helps some.
dot
By (Guest Post)
June 15, 2007
0

found this helpful
I went to Hobby Lobby and checked the pattern section and found alot of patterns for dogs. There is some with dresses and coats.
Also we went to a Thrift store and found some premie baby clothes and they seem to fit our chi's really well. Our chi's are 2.3lb and 2.7lb. They are 7 months old.
If you go to a search engine and type in dog clothes patterns you might find some there.
I have made my 2 little chi's some beautiful dresse. Now the people that I met at Pet Smart has asked me to make them for their dogs. I sell each dress for 15 dollars. They are only one of a kind dresses. I never make a dress the same so that you can be the only one that has one like it.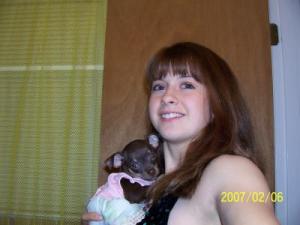 By Tammy (Guest Post)
July 9, 2007
0

found this helpful
i have been looking for patterns for my cat Grr and there are patterns at the following websites : )
www.bellaonline.com
www.Burkesbackyard.com
www.alibaba.com
Hope this helps : )
Tam
August 26, 2007
0

found this helpful
I would like to know that too. M chi/rat terrier is always cold as well. She sleeps under the comforter with me at night. She sleeps by my feet. If you find any free booties, please let me know. I would go to the ends of the earth for her. Her name is Precious and she is the best. Carole
By Eunice (Guest Post)
September 27, 2007
0

found this helpful
I am 78 years old and my eyes aren't so good so I am wondering if anyone has second hand cloths (coats mainly for my Chihuahua, mixed with something else. The owner said he would probably get to 7-8 pounds as he is the runt of the litter. Please let me know if you have a couple old coats, I am going to get him in 2 days. thank you Eunice O'Neil granny-b AT comcast.net
Read More Answers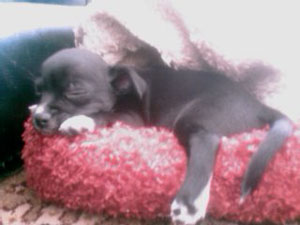 I need some instructions for sewing my own dog clothing. I have just recently adopted (well was given as a birthday present!) a 7 week old tea cup Chihuahua puppy. Now what I'm looking for is some directions for a jacket (I have extra denim from old pants) and a hoodie (I have old sweats i don't use any more ) some shirts and some sweat shirts. Any thing at all! Thanks!
Marisa from Santa Maria, CA
Answers
March 21, 2008
0

found this helpful
Well I figured it out on my own! So what do you think?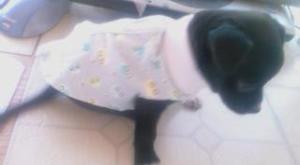 March 21, 2008
0

found this helpful
Cute! I've also seen small dogs wearing some baby clothes tops.
By Sally E. Greer (Guest Post)
March 22, 2008
0

found this helpful
He will need a lot of clothes, I have 3 Chihuahuas, none are Tcup, but we keep the house cool and they shake and shiver, so I buy a lot of clothing on line for them. Ebay has a lot to sell. Your new baby looks like our Corky, he is so precious your little one.
He will do his share of shivering. Starting him young to wear clothes is the best this way he wont fuss when he gets older. Love your baby to death as they have to have human affection. Sally-n-Tucson.
March 26, 2008
0

found this helpful
He's ADORABLE! But yes, I used to use sleeves of sweat shirts with the 2 holes - thats perfect! You may also be able to find some doll clothes that fits! (smiles) Here is my dog in his flannel we got from goodwill baby dept.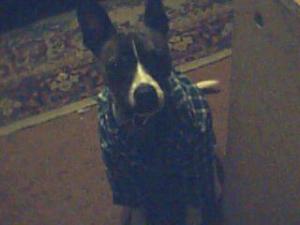 By katjax36 (Guest Post)
March 26, 2008
0

found this helpful
I found that it was cheaper and just plain easier to hit the clearance infant clothing racks. our dollar store even had a couple of cute t-shirts and onsies that could be altered - with just a couple of stitches here and there.
Puppies grow so fast - they won't fit for long!!
Read More Answers