Chocolate Candy Recipes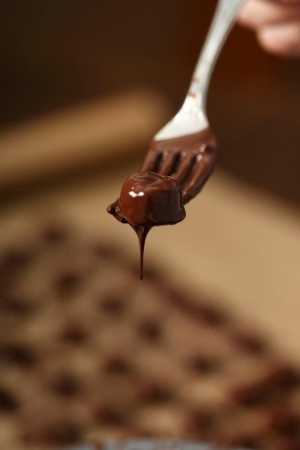 There are so many delicious chocolate candy recipes that you can make a new one every time you like. This page contains
chocolate candy recipes
.
Solutions
Share on ThriftyFunThis guide contains the following solutions. Have something to add? Please share your solution!
Fancy holiday treats can be budget breakers especially if the budget is already tight. However, with just a little creativity you can make delicious treats at a fraction of what it would cost to buy them already made. If you like chocolate, try some of these ideas for yourself or for your holiday parties.
Mix 1 bag or box of dried cranberries with 1 bag of dark chocolate chips to create an inexpensive version of a gourmet treat. Melt dark chocolate chips in the microwave. Stir in dried cranberries. Drop spoonfuls of mixture onto wax paper to cool. You can place this delicious mixture on a party table or put it in an attractive glass jar as edible holiday decor in the kitchen. This is an easy way to enjoy a delicious flavor combination. You can also add some nuts to the mixture.
Buy some of the delicious chocolate bars that are available in various flavors such as mint, orange, raspberry, or any other flavor you prefer. Melt the chocolate bar in the microwave. Cover a baking sheet with wax paper, place a single layer of crackers or cookies on the wax paper. Drizzle the melted chocolate over the crackers or cookies and let cool. Cookies such as butter thins, lemon thins, ginger snaps, or shortbreads are good choices.
By VeronicaHB
Total Time: 50 minutes
Yield: 25
Source: My files
Ingredients:
2 Tbsp butter, melted
2 (1 ounce) squares unsweetened chocolate, melted and cooled
1/2 cup light corn syrup
3 cups confectioners' sugar, divided
3/4 cup powdered milk
1 tsp vanilla extract
Steps:
In a mixing bowl, stir together butter and chocolate.
Beat in corn syrup, 2 cups of confectioner's sugar, powdered milk and vanilla.
Dough will be stiff.
Sprinkle table with 1 cup confectioners' sugar.
Place dough on top and knead until remaining sugar is mixed in.
Shape into small logs.
Wrap in waxed paper.
I'm diabetic and prefer real ingredients. This is a spoon candy, not the hard pick-it-up kind.
Ingredients:
4 heaping Tbsp. cocoa, or more (I use unsweetened Bakers chocolate)
handful or more of peanuts (with or without salt)
1 tsp. vanilla, or more
1/2 tsp. almond flavoring (if you like bitterish dark chocolate)
2-3 heaping Tbsp. virgin coconut oil, or more
1/4 cup raw honey
4-6 heaping Tbsp. plain yogurt with live cultures to make it creamy (this ingredient is not necessary but so tasty and good for you)
Directions:
Mix cocoa, nuts, extracts, coconut oil ,and honey, then add yogurt. Mix until it is all creamy. Add a bit more vanilla only if necessary, a little liquid goes a long way. If you just take a spoonful out per day and keep it in the fridge, it will get hard without the yogurt. It is very filling and all the ingredients are healthy.
I don't use a measurer so the amounts are adjustable for your tastes and not carved in stone
You can use any kind of nuts you like, also add blueberries (fold them in carefully so they stay whole) if you want.
| | |
| --- | --- |
| Servings: | 8 |
| Time: | 3 Minutes Preparation Time |
By k. from Dowagiac, MI
December 22, 2005
0

found this helpful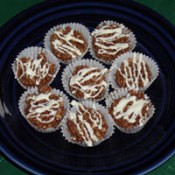 These tasty coconut candies are a great holiday treat.
Ingredients:
Mini muffin paper cups
2 2/3 cups sweetened flaked coconut
2 cups chopped pecans
1 cup semi sweet chocolate
Mini muffin tin
For the Glaze:
1/3 cup white chocolate melted with 2 teaspoons vegetable shortening.
Directions:
Brown coconut and pecans in the oven at 350 degrees F on separate cookie sheets for approximately 9 minutes, a little longer for the coconut. Stir every few minutes to prevent burning. Let cool.
Combine pecans and coconut in a bowl.
Melt the cup of chocolate on a double boiler or in a microwave safe bowl following the directions on the package of the chocolate chips.
Mix the melted chocolate and pecan and coconut mixture together. Drop the mixture into the paper cups.
Let set in the fridge for 45 minutes.
Melt white chocolate with vegetable shortening. Once melted pour into a plastic baggy and cut a little piece off one of the corners.
Drizzle chocolate over the clusters. Chill in fridge for about 15 minutes.
I made these for a Christmas Gathering and they were a big hit!
LeAnn R. Ralph
0

found this helpful
From the book: Christmas In Dairyland (True Stories From a Wisconsin Farm)
When I was a kid growing up on our dairy farm in Wisconsin 40 years ago, my big sister would make Bonbons for Christmas. Back then I thought they might just be about the best thing I had ever tasted - and I still think so.
The Bonbons will make an extra-special treat for your family this Holiday season - or, wrap them up and give them as Christmas gifts to family and friends. Here's the recipe:
~ Loretta's Chocolate Bonbons ~
(from the story "Good Things Come in Small Packages")
1 1/2 cups shredded coconut
1 stick butter
2 pounds powdered sugar
1 can sweetened condensed milk
2 cups chopped nuts
1 1/2 teaspoons vanilla
1 large package chocolate chips
2/3 bar paraffin
(Instead of chocolate chips and paraffin, the coconut balls can be dipped in melted chocolate almond bark; follow the package directions for melting the almond bark.)
Mix coconut, butter, powdered sugar, condensed milk, nuts and vanilla. Roll into small balls. Chill in refrigerator for several hours or in the freezer for one hour. Melt chocolate chips and paraffin in a double boiler (or in a clean coffee can set on canning jar rings in a pan of water). Using a toothpick, dip the chilled coconut balls into the chocolate mixture. Place on wax paper until set.
Questions
Ask a QuestionHere are the questions asked by community members. Read on to see the answers provided by the ThriftyFun community or ask a new question.
I have a whole bunch of Wilton candy melts. I was wondering if you could use them to make chocolate bars? If so, do I need to add anything? If not, what is a basic recipe for chocolate bars. Thank you in advance!
December 7, 2016
0

found this helpful
Check out this recipe on Wilton's site:
http://www.wilt P-5.html#start=3
You could just shape them into bars. If you don't have the instructions on the original bag:
Place your candy melts in a microwave-safe bowl and heat in the microwave for 1 minute at 50% power.
Stir.
Stir again.
Stir again for about 1-2 minutes, then check the temperature on your candy melts.
December 7, 2016
0

found this helpful
Making chocolate is not easy , but if you want to have a go, here is a link:
Related Content