Chocolate-Covered Caramallows
I saw this recipe and had to try it! My favorite candies are caramel and marshmallow and these did not disappoint. I was a little nervous about making the caramel in the microwave. I have my old stand-by that involves stirring the mixture constantly for a full hour! But, these turned out delicious, and it was so much easier to make. They were gone so quickly, I am ashamed to admit.
Total Time: About 4 hours, start to finish.
Yield: About 20
Source: Adapted from the Rook No. 17 blog, "Easy Dark Chocolate and Sea Salt Caramallows
Ingredients:
1/4 cup butter, softened
1/2 cup granulated sugar
1/2 cup dark brown sugar
1/2 cup light corn syrup
1/2 cup sweetened condensed milk
large marshmallows, cut in half
chocolate chips or other melting chocolate. I used milk chocolate, but you can use what you prefer.
sea salt or kosher salt
Steps:
Line a 9x9 or 10x10 pan with parchment paper. This makes a very thin layer (about 1/2 an inch) of caramel, so the dish doesn't need to be deep. Butter the parchment paper. I only had wax paper, so I buttered mine well. I had a couple of pieces that stuck but they peeled off easily.
Place butter, sugars, corn syrup and condensed milk in a medium microwave-safe bowl. Microwave for 2 minutes. The original post doesn't specify the power of the microwave. I did the normal setting.
After 2 minutes, carefully remove the bowl and stir. Even though this is cooked in the microwave, it is very hot. The worst burns I've had were from making candy. Melted sugar is like molten lava! Be careful!
Put back in the microwave and heat another 2 minutes. Stir. Microwave 2 more minutes. Then stir. So, this mixture spends 6 minutes total in the microwave....(x3) 2 minute intervals.
Pour into the prepared pan. Gently tilt or spread the mixture to each corner of the pan. Be careful, the pan will conduct heat and it's hot, too! Use oven mitts to handle the pan. Tap pan on a flat surface to level it. Again, be careful!
Let cool for 1 hour. Lift candy out of pan, using the parchment. Let cool another hour.
Grease a sharp knife with butter. This mixture is very sticky and an ungreased knife will not get through it. Cut the caramels. I cut 20 squares because I was using large marshmallows. The original recipe used small marshmallows and she cut her's smaller.
Lightly butter another piece of parchment paper or wax paper to place the candies on. I took a large marshmallow and cut it in half. I wanted a larger ratio of marshmallow! Remove a square of caramel and place marshmallow in the middle. Wrap the caramel around the marshmallow. Roll it around to make sure it is surrounded by the caramel. I couldn't take a picture of this myself...so my 5 year old played "photographer"! Place candies on the wax paper.
Once finished, refrigerate caramallows for 30 minutes.
Melt chocolate. I heated about 2 cups of chocolate chips with 1 TBS of shortening in the microwave, in 30 second intervals. But, you could use any kind of chocolate.
Coat the candies in the chocolate. Remove the excess from the bottoms. Gently place on wax paper to harden. Sprinkle with a little bit of sea salt or kosher salt. I had some Hawaiian sea salt and it was scrumptious!
Refrigerate until chocolate is set. You can keep refrigerated or store at room temperature. I liked them better in the fridge. These tasted good right away, but they were amazing the next day. I recommend you wait... if you can!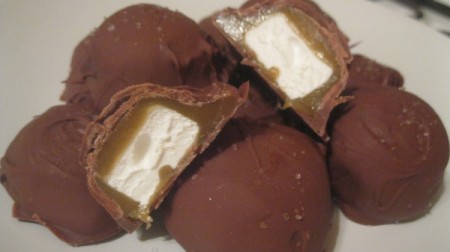 Add your voice! Click below to comment. ThriftyFun is powered by your wisdom!
Add your voice! Click below to comment. ThriftyFun is powered by your wisdom!
Advertisement
Published by ThriftyFun.
© 1997-2020 by Cumuli, Inc. All Rights Reserved.
https://www.thriftyfun.com/Chocolate-Covered-Caramallows-2.html