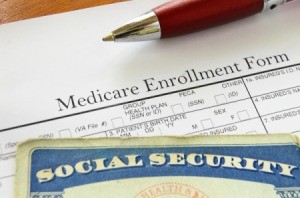 The new Medicare Drug Plan goes into affect today, November 15th in the U.S. If you are eligible for Medicare, you will need to choose a plan by January 1, 2006. Because there are many plans to choose from, it can be confusing finding the right plan for you.
Here is a link to the Medicare website. If you find a good link about choosing a plan, please post it below.
Read More

Comments
My mom is 73 years old and is on Social Security. She's been relying on COBRA as a secondary insurance since my stepdad passed away, but she's going to be losing it in the next month or so. She hasn't chosen a new secondary insurance because she's confused over which one to pick from. She's concerned about the cost of the insurance and the out-of-pocket expenses.
She has a kidney disease, thyroid disease, and fibromyalgia, so she has fairly frequent doctor/specialist visits and blood tests. I don't know if it matters, but she lives in a small town in Arizona that doesn't have a large choice of doctors.
Everyone here has such terrific advice and resources, so I'm hoping that I can get some good suggestions on the best secondary insurance that would be the most cost-effective, along with maybe an explanation of why, so that I can pass it on to her?
Thanks so much ahead of time!
By Judy = Oklahoma from Tulsa, OK
Answers
October 19, 2011
0

found this helpful
Check and see if there is something called SHIINE in your state. They help senior citizens figure out things like social security and medicare. Or else another place to call would be 211, that is a program called Helpline. I'm not sure about the SHIINE program being nationwide, but the 211 program is nationwide. Helpline is clearing house for all kinds of agencies that can help find sources of help.
October 20, 2011
0

found this helpful
She should have got on AARP insurance when she first went on Medicare. She may still be able to do it. The best policy they have is expensive but she will have no deductible whatsoever and the policy will cover Medicare deductible.
October 20, 2011
0

found this helpful
You or she should go to Medicare.gov. You can compare the plans that are in her area. There are several carriers that have plans that do not have a monthly premium.
October 20, 2011
0

found this helpful
Most states have a program to help seniors. It is called SHIP, which mean "State Health Insurance (assistance) Program. Google SHIP for your state and there will be a number to call to help you.
October 20, 2011
0

found this helpful
There are also some insurance businesses that specialize in Medicare coverage (secondary health ins) & they search for the best ins. for you. Also contact your local hospital(s) & ask if they have someone there who can help them choose their secondary medicare health insurance & if they don't, I am sure they will be able to steer you to the appropriate person or state agency. I know PA has "Apprise" which helps seniors with their medicare ins plan choices. I am sure each state must have a similar service if only under a different name. Good luck. Search online "choosing medicare secondary insurance" & check the different links that come up. Good Luck
from another website: What is the best secondary insurance with medicare? I'm shopping for insurance to go w/my medicare.
In some states such as New York certain areas, usually rural the second care provider is free. You need to get a hold of the Medicare book for 2009 for your state. The books were just mailed out. In the back of the book are a list of free and small copay second providers. This benefit is not income related. It has something to do with the availability of medical care in your area. We are in upstate NY.
October 20, 2011
0

found this helpful
Just from experience Humana is a bad deal all around and there is not enough room on here to tell all the reasons. The representative will tell you anything, then after it is too late to change for a year, you find out the truth. AARP rates are quite expensive. I dealt with this for my mother and now am for myself. The one that pays best for medical I have found is Blue Cross Blue Shield. I am open to anything that might be better. I pay no deductible and pay no medical bills.
October 21, 2011
0

found this helpful
Find an insurance agent that you like and he can direct you. I think the best choices are with Mutual of Omaha, Medico (I'm with them) or the AARP. You will have to join the first year, but do not have to renew the AARP after that.
My brother let my 91-year-old mom's insurance lapse and the cheapest we found for her was AARP. I think it turns out to be around $180 a month for Plan F. Your agent will help you select the best plan for her. A drug plan then is around $25-30 a month unless she's low income. Then she can check with her local social services office for help with drug plans. If she is low income, she may be eligible for state assistance with her insurance.
October 21, 2011
1

found this helpful
I for one do not know any senior who can afford insurance. I am a disabled senior with the income of 600 a month and can't afford the 95 a month that the AARP insurance costs.
October 22, 2011
1

found this helpful
Yes, find a good agent and I've found that AARP is NOT cheaper on any insurance they offer. That goes for auto insurance, life insurance, etc. AARP is the last place you should go to look.
Read More

Answers
I recently requested info about Medicare supplemental plans. Thanks for the replies I received so far. However, I am still wondering if anyone can explain something called medicare advantage plans, and how they work? I have to choose either a Medigap plan, or a Medicare Advantage plan along with Medicare A and B. I just need some detailed information about Medigap versus the Medicare Advantage plan.
I have a few months before I am eligible, but I am trying to do the research now, since it is so complicated. I cannot go to medicare.gov site because I am not 65 yet, and to get the info on that site you have to put in your birth date, etc. Thanks for any information anyone can provide.
P.J. from DE
Answers
May 22, 2006
0

found this helpful
Medigap plans (or Medicare Supplement plans) supplement both Parts A and B. They usually cost on average $100, and now do not include drug coverage. (some of them used to). With supplement plans, you can go to any doctor and don't need referrals or anything like that. The Medicare Advantage plans are a fancy name for the HMOs you see. They usually have very little if any, monthly premium. They can include drug coverage. If you don't mind the HMO, then it's the cheaper way to go. If you prefer freedom, than you'd probably like the Supplement plan better. With the supplement plan, your still going to have to decide on a drug plan.
By Pam in RI. (Guest Post)
May 22, 2006
0

found this helpful
Try http://www.medicare.gov again. You don't have to enter any personal info to get answers to general questions. I just tried it again. I clicked on the question "what is medicare advantage?" or something like that. The one where you put in your personal info would still work too. They don't keep the info. It's just for calculations. So you could lie about your birthdate. But you really don't need to. Sometimes it takes a few tries to navigate a large website like that. The next problem is understanding their answers.hehe. I am 68 and still sort of hoping I have made the right choices.
By Claudia -MD (Guest Post)
May 23, 2006
0

found this helpful
Medicare Advantage is the managed care option for your Medicare benefit, rather than the traditional fee-for-service benefit (where you go to any doctor and they bill Medicare directly on your behalf for each service they provide.) Medigap is supplemental insurance over and above your traditional Medicare. Part D is the new drug benefit- you can get that either from a stand-alone drug plan or through a managed care organization. You don't have to be 65 to visit the website, www.medicare.gov, and you can get a lot of info there. I know it seems overwhelming, but if you visit the website and maybe call the local SHIP, you should be able to figure out what you want to do when you are eligible. Good for you for thinking ahead!
By mhemerley (Guest Post)
March 27, 2008
0

found this helpful
I have just done all the research for my mother in-law and we decided to go with the medicare advantage plan. The medigap plans were much more expensive. The main thing to look for in the medicare advantage plans is if your doctors take the plans (you need to call them). Also, if you are taking perscription medications - whether they are covered or not. We checked on every perscription before applying to be sure each was covered. Most of the Advantage Plans have a "gap" or "donut hole". This means that you are responsible for paying the full price of the medications once the cost goes over a certain dollar amount (usually $2,510). Some of the new plans (Anthem BCBS) will cover select generics even during the gap - which is a very important thing if you take a lot of meds. Just check on each medication to be sure it is covered during the gap.
By Rod M. (Guest Post)
January 1, 2009
0

found this helpful
Some of the information shown here is inaccurate. Advantage plans may be comprised of an HMO but that is not a given at all.
May 24, 2009
0

found this helpful
If you have 40 quarters into social security, or have a spouse who has 40 quarters into social security you are entitled to part A of Medicare. Part A is your inpatient and hospitalization portion. Part b is your outpatient and diagnostic test portion (doctors, blood tests, etc.). For 2009 the cost for part B is $96.40/month. If you are collecting, or will be collecting social security when you turn 65 then this amount will be deducted directly from social security. If you will not be collecting by the time you turn 65 then Medicare will bill you quarterly.
A medicare supplement fills in the holes and gaps of medicare (deductibles, copays, etc.) that parts a & b don't pay.
Medicare Advantage (also called Medicare Part C) is an alternative to a supplement. Medicare advantage are not supplements.
When you elect to go the route of an MA then you are dis enrolled from Medicare and you are in a Private company policy that must, at a minimum, must give you the same benefits as if you were still under parts a & b of medicare.
There are pros and cons. With supplements you have a premium, with MA you may not have a monthly premium. The 96.40 that comes out of your social security goes to the private company that you have your MA thought instead of to Medicare.
With supplements you don't have a network or referrals or need to name a primary care physician. with an MA you may or may not have to name a primary care physician or may or may not need referrals.
There are also more copays and deductables with an MA. Also, they are usually HMO's but you can get an PPO.
Supplements have a greater number of physicians tht accept them than accept the MA plan. Also, supplements are federal so they are good everywhere. MA's are only good within your local coverage area (generally).
Also, you can get a medicare part D plan as part of your plan where as supplements do not include prescription coverage (unless as an inpatient).
The questions you need to ask yourself are generally:
what is my present health condition?
any family history of illness or disease run in my family?
Is choice of physicians important to me?
Do I plan to travel or move?
May 21, 2010
0

found this helpful
The premum for supplemental plans average $200 a month now. Advantage plans or Part C plans are supplemented by the government with what are called capitation rates. The minimum for 2010 is Toto Guam which is $443.37 per month and the maximum is $1361.16 in Issaquena Mississippi. The average for all counties in all states is $785.85. This is one of the reasons why the government wants to get rid of advantage plans.
Answer

this Question