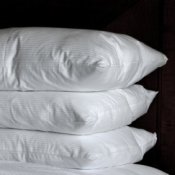 I kept the down pillows from my Mom and Dad's home, after they passed. I took them to the cleaners, who cleaned the feathers, and put them in new ticking of my choice of pattern. I now put them in the dryer on a hot setting for awhile to fluff and freshen. We love them. No allergy problems!
By foxygram from Combined Locks, WI

Is it possible to effectively clean down and feather pillows using a carpet cleaning machine (not a true steam cleaner)? I have a top loading washer and cannot get these pillows to sink, so they do not get effectively washed in there. I refuse to go to a laundromat to use a front loading washer. I read a report on how other people's bacteria and germs are left behind in those washers, which then get picked up on your clothes. Yuck! I also want to avoid dry cleaning the pillows.
I was considering using the handheld attachment on our Bissell Proheat carpet cleaner to do this. I would use a mixture of water in vinegar instead of the solution one might use for carpets. Just wondering if anyone had attempted this, or has any idea whether it's a plausible idea or not?
By lostmymittens from Midwest
Answers
March 7, 2009
0

found this helpful
Best Answer
Most sporting goods stores have down soap made specifically for washing sleeping bags and down filled clothes. It works just fine for down pillows too. It is a mild antiseptic soap that does not remove the natural oils from the feathers. If you use regular detergents, the down becomes brittle.
Dry at low heat with small balls or kid's sneakers in cloth baggies. Ideal are the royal blue velvet baggies with a gold draw string, that Crown Royal Whiskey bottles come in. It is popular with fishermen, but you can easily make one with some left-over velvet. The feather bag for REAL goose down is usually a very thin but super tight duck weave, not a rip-stop weave, and is often quite fragile.
Velvet does not hurt even the thinnest inner bags.
For sleeping bags or duvets it is best if you go to a big laundromat and use the biggest machine that they have. I spent a few winters in tents in the arctic, sleeping well in cozy down sleeping bags, and I learned to never allow harsh dry cleaning liquid or regular detergent to ruin good down. At -55 in an unheated tent you can sure tell the difference quickly!
Have FUN! DearWebby webby.com/humor

April 26, 2009
0

found this helpful
Best Answer
You could try hanging them outside on a good sunny day, all day long, then running through the dryer on LOW with a tennis ball or one of those laundry balls sold at stores. Just run for about 10 minutes, the refluff the feathers.
If it is actually dirty, I would use an upholstery cleaner to surface clean the fabric, then hang outside. The feathers could end up with a permanent stink if you try to wash them at home.

August 14, 2010
0

found this helpful
Best Answer
Washing feather/down pillows should be undertaken carefully as they are delicate and the feathers can clump. I put mine in the bathtub with warm water and a little detergent, swill them about with my hands or walk up and down on them with clean bare feet. Don't leave them to soak. Then, if you have a garden, dry them flat on the grass in the fresh air or on a towel on the floor with all the windows open.

September 4, 2010
0

found this helpful
Best Answer
I wash my feather and down pillows in a top loading washer all the time. Just don't fill with so much water that it floats the pillows up and out of the washer. Use maybe half a tub full water, some liquid detergent and a bit of bleach. Push the pillows down gently as the tub fills with water, close the lid and as it agitates the pillows will start sinking and get water logged and clean.
The spin cycle will leave them looking flat but just put them in the dryer with 2 clean tennis balls and they'll come out all fluffy. Don't overdry. When they're pretty dry hang them at the very edge of the short side with a couple of clothes pins or pants or skirt hangers with clips and let them air dry. They'll smell really fresh and look brand new.
Answer

this Question

I'm cleaning out my mom's attic and found about 5-6 down pillows. The attic is closed up and hot and these pillows have been up there and unused for 15 or more years. Some feel really nice, none really look dirty.
I can see by the casing that a few were pillows made by my grandma that she handstuffed with beautiful, white, soft goose down maybe 40 years ago. My sister says to throw them out that they're too old and could have bugs or be filled with bacteria. Could that be? I would really love to try to wash these pillows and use them for my beds.
Are they too far gone to wash and use again? Could they be filled with bacteria, bugs or who knows what? I'd sure hate to waste them. Good down pillows are expensive.
By Ripley from Chicago, IL
Answers

August 25, 2010
0

found this helpful
Best Answer
Of course they can be washed. Grandma's never threw anything out. I sew mine into a pillow case and wash on delicate, but choose a windy day so that I can hang them outside. You can finish in the dryer on low setting or just fluff.

Lizzyanny
Bronze Feedback Medal for All Time! 226 Feedbacks
August 25, 2010
0

found this helpful
Best Answer
I wash all my down articles. I use a warm setting on the washer with the usual amount of detergent. I also use fabric softener. It takes several times thru the dryer to get them dry, but they are like new when they are dry. You can get new pillow ticks and transfer the down to the new ticks when it is wet, then dry as usual. Good luck.
Answer

this Question

I have some feather pillows I love, but they need washing. Does anyone have
an idea or can tell me how to wash them?
Answers

July 22, 2017
0

found this helpful
I wash mine on the gentle cycle and fluff dry. Use a mild laundry soap and make sure no holes in the pillow first. You can also lay them flat to dry, but turn and fluff them often while drying.

July 23, 2017
0

found this helpful
Feather pillows can be washed in much the same manner as down pillows.
Feather pillows (even the old, old ones) can be washed on a gentle cycle (lots of water) with another pillow or a large towel or two and mild soap with a vinegar rinse or two. Place pillow in a cotton zipper pillow case/cover so any loose feathers will not get in washing machine. Many say not to do this but it works for me. Do NOT use fabric softener as it will cling to the feathers.
Always use small amounts of soap and rinse twice.
I dry my pillows in sunshine on wire rack by turning often for a couple of hours and then place in dryer to finish. hard balls or a clean tennis shoe helps get the moisture out. Try to hang (long ways) on a line inside after drying just to be sure they are dry.

Hello
Bronze Post Medal for All Time! 107 Posts
July 23, 2017
0

found this helpful
stuff like this i sometimes simply leave it out in the sun, or in the locked car on a sunny, hot day
intense heat and light acts as a great deodorizer, antibacterial, etc

July 23, 2017
0

found this helpful
It is always best to try just placing in sunshine for a few hours to see if pillows really need washing.
I have never tried drying my pillows in just the dryer so I do not know how that would work. I always dry them as much as possible outside in the sunshine but it takes a few hours (more than a day sometimes) to dry completely and you do have to keep fluffing and turning them over. Also try not to lay on a solid surface as you want air to circulate around the pillows.
Putting in the dryer should be to just fluff and no heat.

haysie
Silver Answer Medal for All Time! 424 Answers
July 23, 2017
0

found this helpful
Wash on a gentle cycle, if possible leave them outside to dry, if you have a clothes line, use a clothes pin to hang by two corners and it will drip dry on its own.

Judy
Gold Post Medal for All Time! 677 Posts
July 28, 2017
0

found this helpful
Wash on a gentle cycle with mild detergent. Fluff up when dry.
Answer

this Question

Maryeileen
Bronze Request Medal for All Time! 59 Requests
How do I go about cleaning a down throw pillow?
By Maryeileen from Brooklyn, OH
Answers

October 4, 2011
0

found this helpful
I'm thinking that a pillow would be too thick to throw in the washing machine and dryer. It will probably have to go to the cleaners. But by the time you pay their cost, it may be cheaper to replace it. I've washed down comforters and even a feather bed, but it took a long time to dry - especially the feather bed. The down comfortors are not as thick as a pillow so they dried fine.
From what I understand about the cleaners - they take the pillow apart, wash the feathers and either replace the cover or wash the cover separately and reassemble.

Maryeileen
Bronze Request Medal for All Time! 59 Requests
October 10, 2011
0

found this helpful
It's a throw pillow, not a bed pillow, so I might try to wash it on the delicate cycle.
Answer

this Question