Editor's Note: There are health concerns about mixing bleach with other cleaners, like vinegar. Please use caution and avoid breathing in the toxic chlorine gas.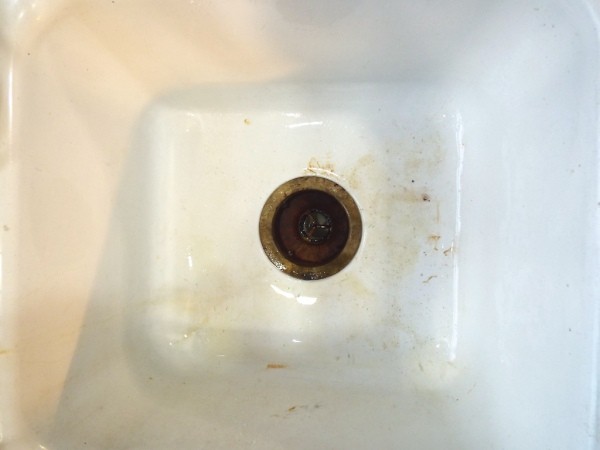 I am not at all proud to let you see the mess I let my kitchen sink get into. I am kinda happy to let you in on how I cleaned it up.
My sink is old and pitted, just like me. The deeper the pits and the more the smooth surface has been worn away, the more difficult it is to clean. Not only that, these older sinks with their eroded surfaces, stain more easily and hold onto those stains, tenaciously.
Erosion and pitting cannot be cleaned away. If you are bothered by these two, your only recourse is to have the sink re-glazed or to buy a new sink.
The biggest offenders to a sink's surface is not protecting the bowl bottom with a mat, and believe it or not, cleaning the sink with scouring powders specifically designed for cleaning porcelain sinks. These cleaning agents, including the 'soft scrub' type, will in time etch the sink surface, making it porous and open to real staining. By the time you notice the dulling of the surface, the permanent damage has been done. My sink was not new when it came into my possession. Had it been, its surface would not be in the shape it is.
There is a product called Barkeeper's Friend. My understanding is that it is of a totally different composition than regular scouring powders and therefore much gentler to a sink's surface. I cannot speak to its effectiveness or gentleness. I have not used it. I can speak to its cost. It is not moderately priced.
Seeing what a mess my sink was in, I decided it was time for some serious cleaning. While getting out my cleaning supplies, I happened to remember something.
My home is covered with vinyl siding. The north side develops a heavy green layer of scum. This scum is very difficult to remove. I mentioned this to a sister, who suggested I try something she had heard about. A painter had said that the easiest way to remove this scum was with a mixture of equal amounts of household bleach and white vinegar. Doubtful, I tried the suggestion. It worked better than anything I ever tried. I even took pictures, I was so happy with the results. A tip within a tip. One you might want to remember if you have vinyl siding.
I always use bleach when cleaning my sink. First, I scrub the sink with a paste of dish detergent and baking soda. This will never dull a porcelain surface. After rinsing the sink, I pour in bleach and let it sit for a while. The sink is then much whiter and sanitized.
Well, I wondered if a combination of bleach and vinegar would clean and whiten the sink better than bleach, alone. I can tell you emphatically, it does.
I cleaned the sink as usual with dish detergent and soda and then rinsing. Then, I poured in the bleach-vinegar mixture. I could tell immediately it was whitening better and faster than bleach, alone. It even lifted some of the rust stains.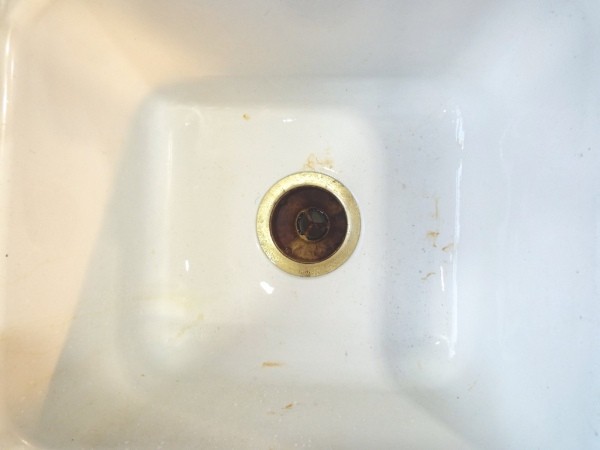 For the deeper rust stains, I used something I discovered long ago, a pencil eraser. Unless the rust stains are really deep, the eraser will remove 100% of them. Don't go out and buy a big block eraser. It won't work. The older and harder the eraser, the better it will remove the rust. It will not harm the porcelain. Expect to use some elbow grease if the stains are deep. A good use for those old pencil stubs you're meaning to throw away.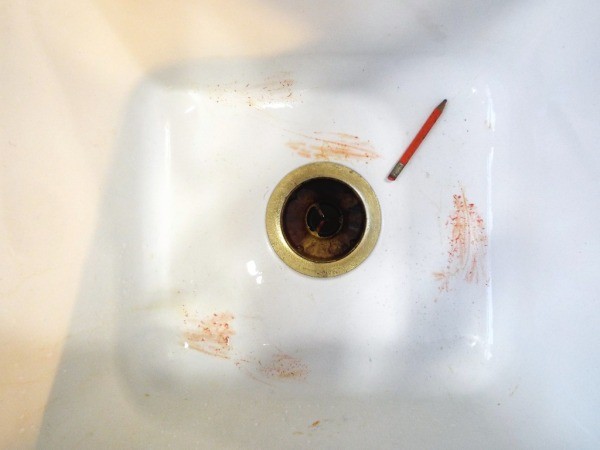 A quick rinse and another application of bleach-vinegar if you think it necessary and you finished. You will note that I did not remove 100% of the rust stains. I came close. By next Saturday, I will have found more old pencils and finish the job. I still have the other bowl to do, too!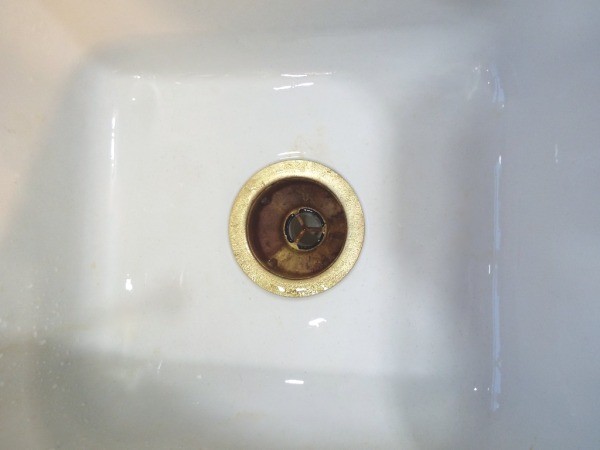 Final tip: Never use anything harder than baking soda on porcelain sinks. That includes those newer, flat nylon scrubbing sheets. They will etch the sink surface.