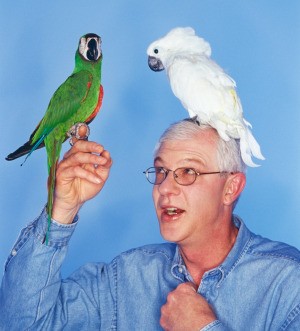 How can I clean bird droppings off of a cloth dining chair without chemicals? I have a client that lets their birds go anywhere and everywhere and I cannot use chemicals of any kind because he is very sensitive to odors due to health problems. Despite this concern his wife still lets animals go where they please. Thank you in advance.
By janice
Answers
April 26, 2010
1

found this helpful
Spray affected area down with distilled vinegar. Don't soak, just light coating to keep dust down and to kill some microbes and then wipe off with warm soapy water and be sure to wear protective gloves and a mask! Also, print the following out for both the husband and the wife:
Most people agree that bird droppings are an eyesore but they would be horrified to find out just how accurate the headline is. Ocular histoplasmosis, a fungal infection that eats away at the eyeball is just one of over sixty diseases that birds can transfer to humans. Their droppings are often the vehicle for transmission as they dry out, turn to dust, become airborne, and are absorbed by the mucus membranes of unknowing victims. Still beyond avian flu and West Nile virus, diseases from birds are often glossed over. This leads people to believe that the issue of bird infestations, and the subsequent droppings they leave behind, can be safely kept on the backburner.
If people realized that droppings are a carrier for potentially fatal illnesses like salmonella, E.coli, respiratory histoplasmosis (which can permanently affect the lungs), Cryptococcosis, or meningitis to name a few, they would have more ammunition when demanding the control of birds and their waste. This is not just a matter of image but of public health. Any of the aforementioned diseases leave young children, the elderly, and those with compromised immune systems, especially vulnerable.
April 27, 2010
0

found this helpful
Thank you! I will pass this info on to them. And I will pick up a mask so I can get this taken care of for both their sakes, and health.
April 27, 2010
0

found this helpful
You are most welcome, Janice. I learned about this about a decade ago when some work needed to be done on the eaves of my home. The contractor needed to remove a bird nest first to do the work and I teased him for putting on a mask. He was kind and didn't scold me, but he definitely educated me. ;-)
I do want to say that this information should not keep people from having birds as pets, but rather just be safe about where they are pooping and clean immediately if there is a dropping outside of the cage and disinfect with distilled vinegar. Also, keep the cage clean often and wear protective gloves and a mask while doing so.
June 23, 2013
0

found this helpful
Hard to advise not knowing the size or specific species of birds you're talking about. I have 2 tiels and 2 budgies and I can tell you this it doesn't take all day for the poo to dry (not sure about your larger parrots)....what I would do if my birds weren't so glued to hanging out around their home (cages) is put temporarily sheet or material to cover cloth.
A bird's poop contains both urine and digestive wastes, so it can begin to smell pretty awful if left unclean. I cover my fabric furniture with a throw when they're on it, allow it to dry, I rub the dried poo down into the trash (like you're handwashing your delicates), because when it's dried, it's real easy to flake off. Toss in laundry with regular detergent, little vinegar or bleach & wash.
Of course, regular avian vet checks can help reassure you of any airborne bacteria, like hieolbacter (sp?) pylori, which is airborne and can be transmitted to humans if not addressed quickly with a regime of antibiotics. (& can be easily treated in birds, but not something you want to be exposed to, as it makes humans seriously ill). Best thing is not to allow any bird to poop directly on fabric furniture, just to be safe and minimize sickness for everyone. Cover it with something.
P.S. All birds' poo tend to change consistency depending on stress or temperature or excitement (i.e. spritz bath)...becoming a temporary runny watery poo. You don't want that satuated into fabric. Use a cover of some kind. Do not spray or wet down first because all you will end up doing is smearing wet poo into the fabric. If owners won't allow covers... let it dry completely scrape into trash bag and then clean fabric with vinegar, soap and water or whatever your choice cleaning method (natural cleaning products are safest for the birds).
Answer

this Question