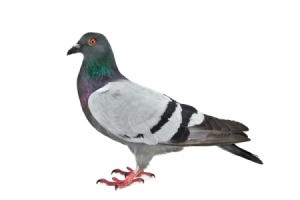 Question:
I live in an apartment complex where there is a bunch of pigeons and no nest but lots of droppings. I noticed there is an owl statue on the roof and the pigeons must have realized its fake because they are still coming back. What can I do? Also, I've read that their droppings can cause diseases and it has collected in the dirt by my front door. How do I safely rid the soil of their droppings so I can plant things?
Shell from CA
Answer:
Shell,
You're right. Pigeon droppings can pose human health risks, primarily by inhaling spores from a soil-borne fungus that grows where droppings accumulate. Because spores are inhaled when airborne, wet (fresh) droppings do not support the growth of this fungus.
If a significant amount of droppings have accumulated, removal is best left to the professionals. The safest advice I can give you is to contact your local public health department for information on proper clean up and disposal guidelines.
Because the droppings are located right out your front door, ask about your rights as a tenant to request that your landlord minimize your exposure to this health risk. I'm not suggesting you become involved in a conflict with your landlord, but rather that there may be local resources available to help both you and your landlord deal with the problem.
Pigeons are difficult to control, especially in urban environments where they have an easier time locating food sources.
The most effective methods usually include physically modifying the surface of the structure they prefer to roost on. Wire screens, netting, sheet metal or other materials can be constructed in such a way as to deter them (think vertical prongs or prickling fences). Pigeons prefer resting on relatively flat surfaces, so modifications should be created to make angles of 60 degrees or more.
There are also non-toxic sticky substances designed as tactile bird repellants that may be applied directly to perching areas.
Less radical (and less effective) methods suited to urban environments include using combinations of visual and auditory devices like shiny strips of Mylar tape, helium filled eyespot balloons, decoys (like the owl) or wind chimes.
By Coreen (Guest Post)
October 1, 2005
0

found this helpful
Best Answer
Just till the droppings into the soil. They make wonderful fertilizer for leafy green plants, and they will break down into a harmless substance that is very good for the soil. One of my college professors said their gardener used chicken droppings around the roses, and they were out of this world!

March 12, 2009
0

found this helpful
March 12, 2009
I have just moved into a beautiful brand new apartment building and I'm on the top floor. The only thing that wasn't beautiful was the balcony. It was totally covered with pigeons and their poop. A friend told me to spray straight javex bleach on the railing or wrap the railing in plastic and generously spray with bleach. It worked! All in one day like a miracle!
She told me to do this everyday for 7 days. After working so well after just the first day; I didn't need to repeat .
Keep the little ones and pets away for at least a week. It's better to disallow anyone on the balcony during this time. Take caution bleach is poisonous it can also discolour. Use plastic gloves and mask while using. Good luck! Lee