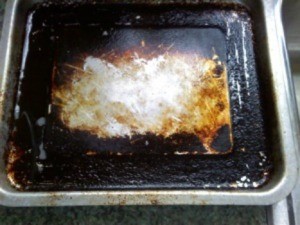 I have looked at a lot of burnt pan topics but I don't see what I need. My pan is not something I can boil in. I have a small toaster oven pan that seems to be double thick, not really thin. I have a black layer of burnt on ready to eat foods (fish sticks etc.) that I cannot get off.
I have tried vinegar with baking soda and peroxide and a few drops of soap and I have tried Dawn scrubber spray but it didn't work. There is a circle that is not burnt in the middle of the pan, and burnt black all around the edges. I have soaked it. I can't boil it because its a cookie sheet sort of pan. Any suggestions? I have tried the Magic Eraser (is that useful for anything) and the green scrubbie pads. I can't tell what it is. It's not coated for sure, but I imagine its aluminum.
By kristi from VA
Answers
September 8, 2009
0

found this helpful
You can try oven cleaner and letting it soak for a while or dish washer detergent, diluted and left to soak. It may be easier to replace it. The best way to avoid this happening is to spray it with a spray like pam before each use and then a proper cleaning afterwards. I know, that's like shutting the door after the horse is gone :)
Read More

Answers
I've read through the solutions for removing burned food from stainless cookware, but I have burned apple pie juice on an insulated cookie sheet, which cannot be soaked. Any suggestions, besides throwing it out?
Dee from St. Paul, MN
Answers
October 8, 2008
0

found this helpful
I've soaked a thick cloth (old bath cloth) in whatever I'm using to clean with (usually dishwasher detergent and water) and laid it over the area and tilted it into the sink so water doesn't run all over the place. I let it soak over night and most of the time it comes right off. Sometimes I have to re-wet the cloth and soak longer but not usually.
October 8, 2008
0

found this helpful
Sprinkle baking soda on it like cleanser and scrub with a sponge. Baking soda reacts with the carbon in a burnt spot.
October 9, 2008
0

found this helpful
try a 50/50 solution of cream of tartar and white vinegar. i read it somewhere on the net and have been using it like crazy on my pans with old crud on them. they look fabulous. mix it in a custard cup and spread on (use your fingers). let sit for a little bit then scrub with your scrubber of choice. neat trick!
October 11, 2008
0

found this helpful
Borax is great for cleaning stuff. Make a paste with your favorite cleaner and scrub. Or try soaking it in the bathtub.
October 11, 2008
0

found this helpful
Have you tried the Dawn power disolver spray? I love that stuff! It makes my cookie sheets look like new.
October 11, 2008
0

found this helpful
I've done the same as Glenn'sMom above, I use an old washcloth or hand towel, soak it in water and lay it over the burnt area. It will loosen.
I've also put water in the pan and put it back in the oven, the water gets hot as does the pan which makes it easier to remove the burned goop. This works great for stovetop pans as well.
October 12, 2008
0

found this helpful
I use spray on oven cleaner when my cookie sheets & baking pans start looking bad. I just spray on & let it sit over night.
Read More

Answers