I haven't cleaned my mini blinds since we moved in about a year ago! I've lightly dusted occasionally, but little spots and such are showing up on them now. Could someone please tell me the best way to clean them at this stage of 'dustiness'?
Sue from San Francisco, CA
Answers:
Cleaning Dusty Mini Blinds
The bane of my existence! I clean EACH slat with a baby wipe. It takes forever (34 windows) but it is the only thing that seems to cut the dust and grime (in kitchen). AND I have tried almost all the ideas mentioned. All blinds except kitchen and bathrooms seem to get by on occasional dusting and a once a year power cleaning (Spray with cleaner, wipe each slat with a wet towel, repeat with clean towel if necessary and then dry.

Good luck!
(01/04/2008)

By Skibum1910
Cleaning Dusty Mini Blinds
Put them in the bathtub turn the shower on and plug the tub add bleach. This cleans the cords too so they look new. scrub them if they are really grungy. (01/04/2008)

By iBroke
Cleaning Dusty Mini Blinds
The BEST way I have found is to place your blinds in the bathtub and run the hottest water possible. While running the water, add a few cups of bleach. Let soak for 2-3 hours. Drain water. Run more hot water and let soak 15 minutes. Drain. Blinds should be free of bleach residue and they will look as new as when you bought them Have fun and good luck! (01/05/2008)
By Heather, Arkansas
Cleaning Dusty Mini Blinds
I take all the blinds off the windows. put them in my whirlpool bathtub, add Clorox Cleanup and water and turn the bath tub jets on for about 10 minutes The whirlpool agitates the crud off. I just drain the tub and let them air dry. Easy. (01/07/2008)

Cleaning Dusty Mini Blinds
Take them down one room at a time and put them on a concrete area or porch outside and spray them down with the water hose to let them dry outside. Spray them down with a cleaner a few minutes before you spray them with water to let dirt loose. Hope this helps. If weather is bad, let them soak in bath water. (01/07/2008)
Cleaning Dusty Mini Blinds
I bring my blinds outside and clean them with a sponge and the hose. (05/02/2008)

By Gary
Cleaning Dusty Mini Blinds
Does the metal mechanical part ever rust? (10/01/2008)

By CarrieStel
Cleaning Dusty Mini Blinds
I hate mini blinds! You just look at them the wrong way and they bend and you can't fix them when that happens. I tried taking my down to clean as suggested and they got bent - Arggg! I have tried everything and they just get bent and continue to look awful.

I am going to replace them. Just saving money from check to check during the recession in order to afford it! (01/06/2009)

By rustyz
Cleaning Dusty Mini Blinds
Just hang dusty mini blinds from MiniMaids support brackets stuck to a shower wall or an outside window, then simply rinse away dust from blinds using the shower sprayer or garden hose. Works great indoors or outside! (02/07/2009)

By TheVan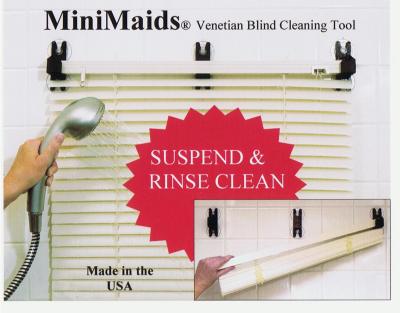 Cleaning Dusty Mini Blinds
Be careful if putting blinds in the bathtub to clean them. I got nasty scratches in my shower surround from the edges of the metal blinds when I did it. Now not only do the blinds look terrible, the shower does too. (01/16/2011)
By cs_jag