How can I get my soap scum covered transparent sliding bathroom shower doors sparkling clean, like new, without scratching the glass? Are there any home remedies? Thank you!
By Trudy
Answers:
Cleaning Soap Scum on Shower Doors
I use ordinary soap, whilst in the shower, after washing myself. The soap eats the scum and you can rinse it off afterwards. We also dry out the shower each morning when everybody is finished, so it helps to prevent buildup. (03/03/2011)

By LTK
Cleaning Soap Scum on Shower Doors
Use products like Scrubbing Bubbles. While the shower doors are wet is a better time to do it, but you can spray them when dry. This works great. Just do it a couple of times a week and it keeps the doors clean. I have done this for years. It is so easy the shower cleans itself.

Rosemary, in OH (03/05/2011)

By meis54
Cleaning Soap Scum on Shower Doors
I too have had this problem in the past and very recent past. Just this past week it was driving me nuts. I recently purchased castile soap liquid with tea tree oil. (I don't know if the tree tea oil makes a difference or not. It is just the one I bought). I put some on a sponge (scrubber side) and went to work on the wet glass. I rinsed and didn't notice much of a difference until the next morning when I got in the shower. I saw that it did help quite a bit. So I did it again. It seems to be working. I have also switched to body wash in the shower as the bar soap seems to make it worse. (03/05/2011)

By Compltlyme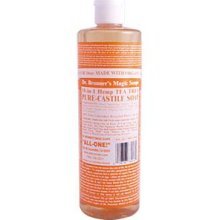 Cleaning Soap Scum on Shower Doors
I use a fabric softener sheet and just use in a circular motion on doors. (03/06/2011)

By Jay1024
Cleaning Soap Scum on Shower Doors
Once your doors are clean, get a squeegee to use on them after each shower. There are plastic ones that look better in the shower than the more industrial metal-looking ones. Some friends suggested this to me and I have recently begun to use it and it seems like it is keeping the scum away. I need to use some of these suggestions until I get the doors sparkling. (03/15/2011)

By Happy05