This is a great tip on how to clean your microwave without using chemicals. I found it on an online blog. So I tried it. And here are the results!

At first I was a little ashamed of how gross the inside of my microwave really was but it's sparkling now, so no judging me. The recipe was pretty simple:
1 cup water
1 tablespoon of lemon juice or a few lemon slices for scent
Cook water in microwave until it boils for at least 30 seconds. For me that's about 4 minutes. Leave in microwave for about 15 minutes. Remove boiling water and wipe down ceiling of walls and microwave. Everything should wipe right off with minimal scrubbing.
Go try it! I know your microwave looks a little like mine, right?
By LovingLynden from Lynden, WA
Answers:
Cleaning Your Microwave
Just wipe inside of microwave with a damp cloth after each use, or as necessary. (10/29/2009)

By a4a42316
Cleaning Your Microwave
Now that you have your microwave clean all you need to do is purchase (and they only cost a couple of dollars and last forever) a plastic microwave food cover, and you'll never have splatters again and can wash the cover by hand or in the dishwasher when it needs it. You can find them at Wal-Mart, Target, etc.

Here's an example photo (plate not included ;-) (10/29/2009)

By Deeli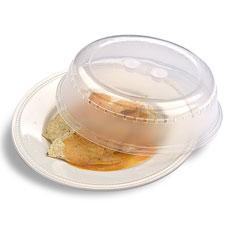 Cleaning Your Microwave
Nice idea, I use distilled vinegar instead of lemon juice, doesn't smell as nice, but it works too. (10/29/2009)

By soup-lady
Cleaning Your Microwave
Have you been peeking in my microwave? LOL Thanks for the tip, I certainly am going to try it. (10/31/2009)

By sameoleme
Cleaning Your Microwave
In spite of my best efforts, my microwave got pretty grungy. (Hubby forgets to cover items, etc.) But, I usually just scoop a 6-ounce coffee cup almost full of fresh dishwater, soap suds and all, to "mist" my microwave. Then I remove the rotating plate that's in the bottom and wash it as I do my regular plates, dry it, and put it back in the microwave once it's clean and has a chance to dry out some. Works for me, anyway. (11/02/2009)
By JustPlainJo