Using A Microwave
Solutions
Share on ThriftyFunThis guide contains the following solutions. Have something to add? Please share your solution!
Awhile back I dropped my one and only glass pot and shattered it. I stuck the lid in a cabinet and forgot all about it. A few weeks ago while doing a little fall cleaning, I came across it again and used it to cover something I was making in the microwave.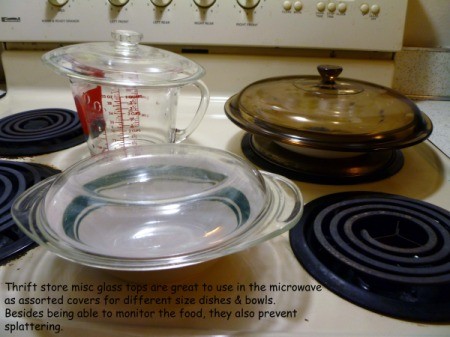 Read More...
The 'zero' button on our microwave went out. Zero was the most used button, of course. But our budget didn't want us to buy a new microwave. So we puzzled over it for a few days.
It may seem obvious, but we finally thought - punch in 2:59 instead of 3:00 minutes. Close enough, and no zeros! The old micro may now last for several more years.
By don from NC
I found that this could be used to pick up hot baked potatoes out of the microwave oven. It was an extra piece I had left over from a craft project.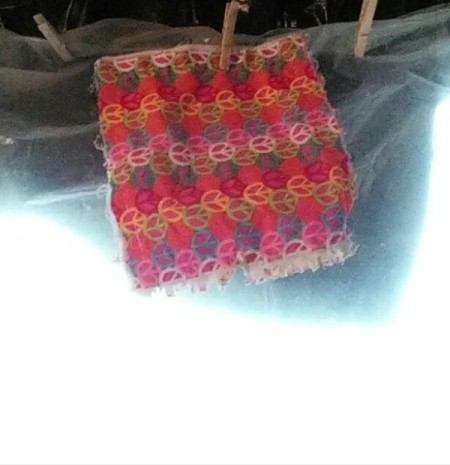 I fold a sheet of paper toweling to make a square and place it in the middle of the microwave turntable. If there are spills, it goes on the paper towel. I also like having the paper towel as a noise buffer.
Read More...
I bought my nephew a microwave to take to college with him. At the store I gathered up some plates, cups and bowls of varying sizes to be sure they fit in the microwave.
No need to return the microwave for a different size.
Read More...
I nest all of my glass microwave cooking pots and bowls and keep them on top of the microwave. I never have to search for them, because they're all right there when I need them.
Read More...
Questions
Ask a QuestionHere are the questions asked by community members. Read on to see the answers provided by the ThriftyFun community or ask a new question.
August 8, 2008
0

found this helpful
Why do microwave pot pies say only cook one at a time?

Sam
Answers
By Harry (Guest Post)
August 8, 2008
0

found this helpful
Microwave ovens come with different wattages meaning the higher the wattage the less time to cook. So the food manufacturer takes a lower wattage to figure time to cook one item, say 6 minutes. The more items in the oven the longer it will take to cook and the food may not be cooked uniformly.
That doesn't mean two items will cook in 12 minutes. You could put two items in the oven but the results may not be as good as cooking one item at a time. You could cook one item at a time then place both items in the oven and reheat. That may work also. You will have to experiment to get the correct time to cook two items.
August 12, 2008
0

found this helpful
probably because they are so frozen and dense the microwave cannot evenly cook both adequately.
Answer

this Question

...
What do you use to dehydrate fruit and veggies? I'd rather microwave to use less power.

Haley from Centreville, MD
Answers
June 10, 2008
0

found this helpful
I apologize if this is a duplicate, but my computer malfunctioned.
I would look up www.excaliburdehydrator.com for a great machine. I've had the 3926T for about 5 years and use it all the time! It's made by a family type California company and is so nice to deal with.
I have the 10 year warranty, so no worries there. It costs only pennies to do a load. Go to the website and read all about it. If I can answer any questions, please do email me and ask.
June 11, 2008
0

found this helpful
Back aways, I acquired a "Quick Minute Dehydrator" by Emson...one o'them "As Seen on TV" items. I've not used it yet, but it looks interesting. Couldn't find an address, website nor nuthin on the box or enclosures, just on the back of the how-to & recipe book it says Emson, New York, NY 10001. But, it does have the "As Seen on TV" red blob on the box, so maybe you could google it??? Good luck! Oh, PS: I just glanced at the index page an' it mentions potato chips--I've MADE microwave potato chips before, an' they're GREAT! No fat, grease nor nuthin, and DELICIOUS!
Answer

this Question

...
September 21, 2018
0

found this helpful
Reheating bread in the microwave can cause dry unappetizing results. It is, however, very easy to keep your bread products moist.
Water or damp paper towels are the key. This is a guide about
reheating bread in the microwave
.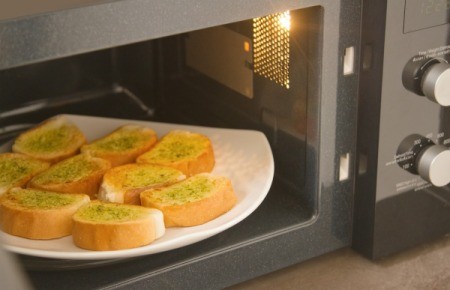 August 7, 2018
0

found this helpful
Microwaves can sometimes heat food unevenly. Use this technique help prevent uneven heating of your food. This is a guide about reheating evenly in a microwave oven.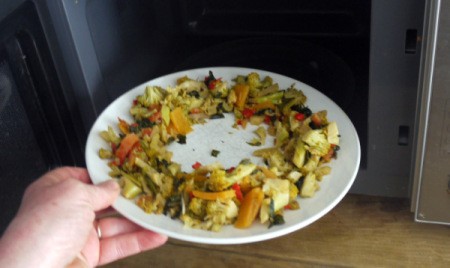 April 4, 2017
0

found this helpful
If your microwave is locked, you may have inadvertently engaged the childproof lock. Check your manual or the manufacturer's website. This is a guide about unlocking a microwave.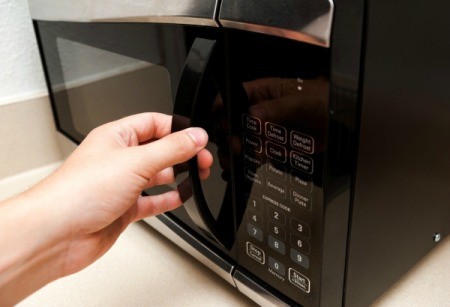 April 4, 2017
0

found this helpful
While it is not recommend that you maintain physical contact with a microwave while in use, as long as you follow the manufacturer's recommended guidelines microwaves are generally safe to use. This is a guide about using a microwave safely.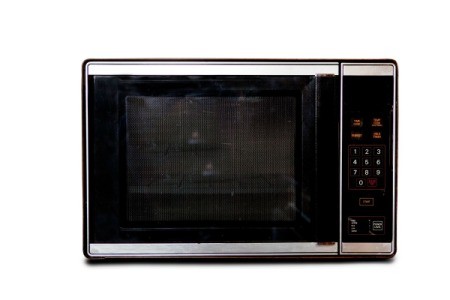 Related Content