How do I remove the brownish, icky build up from the bottom of my iron? It is getting on my clothing and in some fabrics. I have tried steel wool, vinegar, baking soda and elbow grease. Is it time to buy a new iron?
Peggy from Smithfield, UT
Answers:
Cleaning Your Steam Iron
If you have some around, you can try ironing several fabric softener dryer sheets (with a towel under them) while your iron is fairly hot. But I still prefer the Faultless Hot Iron Cleaner for only $2.79 at Walmart. It never fails. It even removes melted-on plastic & interfacing. (06/22/2008)

By Cyinda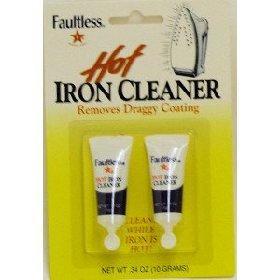 Cleaning Your Steam Iron
If I remember correctly, in the old days, we used to put salt on a piece of wax paper and with a warm iron go back and forth to remove the goop, clean out the holes and then pass the iron over a clean piece of wax paper. Really thrifty and the iron was smooth again. (06/22/2008)
By Angela39
Cleaning Your Steam Iron
The walmart product - faultless iron cleaner - works like a miracle. I tried everything and was ready to throw the iron away. When I read the post about it and tried it, I was amazed at how simple it is to use and how effective it is. Thanks to all of you who recommended it. (06/29/2008)

By fred
Cleaning Your Steam Iron
Thanks so much for the suggestion. I must have worked for an hour trying to get the gunk off my iron after ironing wonder under with it. I will now try this hopefully magical substance from Faultless. (08/20/2008)

By Joyce
Cleaning Your Steam Iron
I must be the only one who doesn't know how to use the Wal*Mart Faultless cleaner, because I have used 4 tubes so far and my iron is still dirty! Some miracle. I followed the directions and although it did get quite a bit of the gunk off it still isn't completely clean.
I'm contemplating whether to try a 5th tube but the fourth one didn't remove much. It's so close to getting completely clean it's quite frustrating. No one said it was going to take so many tubes. I'd like to scrub it with something but not sure what to use, I don't have steel wool. (10/12/2008)

By Irene
Cleaning Your Steam Iron
In the old days, we used to get a spray of cedar off the cedar tree out in the back yard and iron over it with a hot iron. It made the iron very slick. (01/10/2009)
Cleaning Your Steam Iron
Thanks so much to all of you who bother to write their advice. I suppose it depends on what is the black stuff on the iron made of. I tried the nail varnish remover; it didn't work. But I had at home this "Bar Keepers friend" that someone had mentioned, and it did work. On a clean damp cloth, the product making a little paste, and rub, rub, rub. It all came off! Thanks for the idea. I wouldn't have thought of it. (01/19/2009)
By Mary
Cleaning Your Steam Iron
I saw the Faultless Hot Iron Cleaner (the exact item pictured here) today at Bed, Bath & Beyond in Columbus, OH. I think it was $2.99. (02/01/2009)

By JimG
Cleaning Your Steam Iron
Cleaning the iron with steel wool and wax paper worked so well! Thank you :) (02/22/2009)

By Wendy
Cleaning Your Steam Iron
I tried the SOS a week or so ago and it was a bit of a pain because the soap got stuck in the holes, and then I needed to clean all the holes out. Plus the iron seems to get dirty real quick afterward.

Just tried the fabric softener suggestion. I laid 3-4 bounce fabric softener sheets on an old rag towel and ran the iron back and forth across the top of the bounce sheets. It worked best when I actually laid the towel on the edge of my granite counter top - I was able to apply more pressure that way. Be careful to keep your iron on medium because the fabric softener sheet will melt. This technique got almost every drop off. I had one small spot left and I turned the iron off, waited a minute but while still warm, rubbed one of those little green kitchen scratchy pads over the spot and it came right off.
I wish I had some wax paper or paraffin handy, because I think the key to keeping an iron clean is to make sure the bottom remains slick. (03/28/2009)

By jwillmot