Cleaning a 1950s Horseman Doll?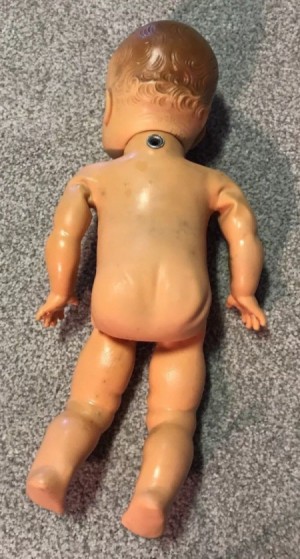 How do I clean a 1950s Horseman doll without making it sticky. It's not sticky now and I do not want to clean it with anything that will make it sticky. Also another problem is that it smells like mold coming from tiny silver hole in back. The outside looks great, but I know mold is dangerous. The head is the only joint on the body. Is it possible to take the head off and remove fibers from inside and maybe wipe it out with vinegar on a piece of cotton? This is a special gift for my mom. When she was little her brothers stretched the arms off her doll, and for years I heard the story of this. I decided to surprise her with this one, but don't want to ruin the doll. I feel I can fix this problem. The doll is in very good shape and as I said not sticky. I just need to know how to clean it. Help?
Add your voice! Click below to answer. ThriftyFun is powered by your wisdom!

April 9, 2018
1

found this helpful
Best Answer
Many doll sellers and collectors like to find these baby dolls that can be placed in a tub and washed so that dirt and grime can be removed from inside the head, arms, legs but I do not believe you can do this with your doll.
It looks like your doll has a "stuffing" inside her vinyl(?) body and if this is the case, you cannot afford to let that get wet.
Removing and replacing a doll's head can be a very tricky undertaking because the head is usually attached with "wire" inside the head that attaches to some type of wire/rod in the body and doll repairers have special tools that can fit inside the body to reattach the two pieces.
But - some dolls have heads that just slip/fit inside a special groove in the body and yours may be like that.
I cannot tell if your doll has movable eyes but if she does, that may also present some problems if the head is removed.
Have you tried cleaning the "hole" with q-tips dipped in alcohol? You may be able to reach some areas and see if it is mold or maybe just dirt.
If your doll is clean (as you say) on the outside then just try to figure out how to wipe around inside the hole to remove as much grim as possible.
After doing this you might want to stuff a part of a hand or baby wipe around inside. You could maybe wrap it around something that will fit inside the hole but hold on to the wipe.
Maybe leave it inside for a day or so.
You might try sprinkling baby/talcum power inside the hole.
Here is a link to history of Horsman (not Horseman) dolls from the 1950's but I did not see your doll.
www.dollreference.com/horsman_dolls1950s.html

April 10, 2018
0

found this helpful
Thank you for the wonderful information. I have not attempted anything yet. I very much want to take the head off, I feel that is the only way to clean inside. Someone told me vinegar, I do believe it has fibers inside. I think I will try to slowly remove the head and if I see anything connected at all I will stop and try to go through the tiny whole instead. I was told to also put the doll in a bag of cat litter. I worry this will put tiny dents in the skin, it is made of a rubber but not the kind you see today. I have not seen too many of theses dolls. I need it to feel it is safe and not moldy before I give it to my mom. Thank you again for the advice.

Judy
Gold Post Medal for All Time! 677 Posts
April 2, 2018
0

found this helpful
Clean with a Magic Eraser.

June 23, 2021
0

found this helpful
Im trying to find pictures of dolls just like this one. I remember the hole at the neck and the molded head, but I cant find a picture, other than yours, on the Internet.
Could you send me a picture of the doll you are cleaning for your mother?
Add your voice! Click below to answer. ThriftyFun is powered by your wisdom!
Published by ThriftyFun.
© 1997-2021 by Cumuli, Inc. All Rights Reserved.
https://www.thriftyfun.com/Cleaning-a-1950s-Horseman-Doll.html