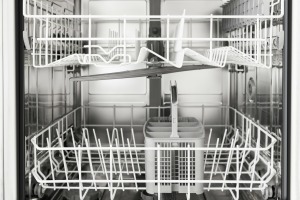 Our dishwasher always keeps water in it and when it is done running it smells. Its connected to the garbage disposal. So it seems when I drain the garbage disposal it fills the dishwasher up with smelly water and when I run the dishwasher and it goes to drain it fills the garbage disposal with water. Any advice?
garrisonsmom
Answers
By Gina (Guest Post)
August 5, 2005
0

found this helpful
Best Answer
I had that happen to me too. You have to open up the dishwasher remove the bottom shelf and get a screwdriver (a rechargable one if you can so you have the power because the screws are really tight) and remove the tube that has the paddle on it. You will find all kind of food stuck in there. It needs to be cleaned often. I had to pay a serviceman to do this for me!
By guest 5-D's (Guest Post)
September 15, 2005
0

found this helpful
Best Answer
I am the wife of a plumber, and yet still had the same problem as you. Put two packets of lemonade kool-aid (generic works too) in the soap dispenser of the dishwasher, while empty, and put it on the longest setting (this will clean the rust out as well). For the garbage disposal, put ice chips and two tablespoons of baking soda in it and turn it on for about 30 seconds to a minute.
It took care of the smell in my dishwasher with one use. I do this about every 4-6 weeks, and have yet to have had a problem again.
By Guy Paquette (Guest Post)
September 27, 2006
1

found this helpful
Best Answer
The cause of having bad smell in your dishwasher is probably because the drain hose of your dishwasher runs lower than your garbage disposer opening. The drain hose must at one point always be attached or run as high or near the top of your counter. This wil prevent the water in your garbage disposer from running down into your dishwater drain hose and create bad odor.
By carolini (Guest Post)
November 28, 2008
0

found this helpful
Best Answer
Ours had a terrible smell that kept getting worse over a few months. I did ice, bleach, Tang, lemons--everything. Finally called repairman who took it apart and showed me all this gross bacteria that had built up inside because of the problem Guy Paquette describes--drain hose improperly hooked up, garbage disposal drained into it.
Once bacteria set in it literally "mushroomed" and the guts were covered with a sort of fungus. I can't believe we weren't all sick! Had to replace dishwasher and drain hose. Check that hose!

February 26, 2017
0

found this helpful
Best Answer
This was great advice. I drilled a new hole for the drain hose closer to the counter and angled the drain hose up when I re-attached it to the disposal. Worked like a charm!
Answer

this Question
When I open my dishwasher there is always a foul smell. I checked it and there are no food particles. What do I do to solve this problem? My dishwasher is two years old.
By Lina
Answers

Louise B.
Silver Feedback Medal for All Time! 337 Feedbacks
September 29, 2011
0

found this helpful
Best Answer
Before you start taking it apart, run a cycle with bleach in it. I would use about a cup of bleach. You could also try a cycle of either vinegar (again, about a cup), or baking soda (about a cup) but not at the same time or together. If that sort of cleaning doesn't take the smell away, then you might try the commercial cleaner or start doing the major investigations such as Poor but Proud has suggested.
I also wonder if you are running the drying cycle? If you are not, and then not opening the dishwasher to make sure everything is dry as a bone, that may account for the musty smell.
You should also check again in the bottom of the dishwasher and in the door for any "traps" or filters that might have debris collected.
Answer

this Question