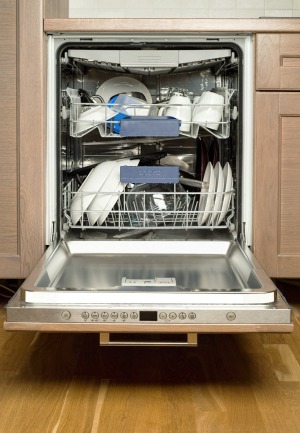 I spent a lot of time researching why our dishes smell like wet dog every so often. I was very glad to see the millions of hits I encountered as now I know I am not weird.
I think I have solved it. After years of wondering about this I looked at everyone's answers and by process of elimination discarded anything that did not work or apply.
I have two new Miele dishwashers and two new hot water tanks; therefore, it can't be the build up on the anodes. I have used all the good soaps, to no avail.
Sometimes washing dishes with eggs will contribute to the smell, but then I should not have the smell if eggs were not used.
I thought about chemical reactions with the well water, but then again, people on municipal water have this problem. My water softener is new too with no odor to it.
I wondered about chemical reactions during damper days, I added bleach, I added vinegar, baking soda, whatever I could. Sterilized the darn thing totally, removed the filters, cleaned out the bottom, checked the piping. Sometimes I would simply rewash the dishes using vinegar after the first pre-rinse cycle.
So recently I decided to experiment again. I decided to add a little bit of vinegar to the machine after I unloaded it. It would smell pretty strong for a while but then the smell would dissipate. Voila! For two weeks now my dishes have not smelled whatsoever. I am wondering whether or not the acid is neutralizing something in the bottom of the dishwasher which I normally can't access.
For all its worth. Try adding vinegar at the beginning of the day so that it can sit there until you turn the dishwasher on. I am very curious to see if this works for anyone else.
By annie
Comments

June 27, 2010
0

found this helpful
Top Comment
This is the absolute answer, you either have no "Air Gap" or vent off the garbage disposal drain outlet or the vent hose is kinked or the garbage disposal drain outlet is practically blocked with organic debris that creates the smell. We have tried all you mentioned and more and finally found the answer. First we added a air gap vent (the vent in top of the sink because I had a soap dispenser there before) which solved the problem completely then after that the problem re-occurred even with the air vent gap, we removed the outlet from the disposal and found onion skins lodged in the garbage disposal outlet.
Removed them and problem solved again. Bottom line, add an air gap and check for debris. Problem solved. We struggled with this for over two years before finally solving the problem. I hope this helped. :) Best Wishes!
Read More

Comments