Cleaning a Stainless Steel Sink
Solutions
Share on ThriftyFunThis guide contains the following solutions. Have something to add? Please share your solution!
After cleaning my stainless steel sink, I realized it wasn't looking as shiny as it did years ago, when it was new. I remembered a old tip from a friend years before, so I got a nice clean soft rag (old socks make wonderful rags) and put some baby oil on the sink and rubbed the baby oil all around it. Wow, how nice! It looked like new (almost), it was so shiny.
I tried baby oil on everything I had around the house that was needing a shine. I even put it on the dinning room table and what a great shine. The whole kitchen looks bright and shiny now. It was so easy and baby oil is very cheap. Leaves everything so shiny. Be sure not to use to much though, a little goes a long way.
By dorothy wedenoja from New Creek, WV
For quick cleaning of your stainless steel sink and drain squirt ketchup in the sink and wipe it around with a soft scrubber. The acid in the tomato will easily clean the scum in the drain and also the sink.
By Cajun from Collinsville
After several years of using harsh agents to clean my sinks and destroying my hands in the process I have started using Brillo type (store brand, of course) soap pads to clean my stainless steel sinks. They look lovely and shiny and my hands are getting better all the time. The bottle of hand soap is made from a tip I got from Thriftyfun using grated bar soap heated in the microwave.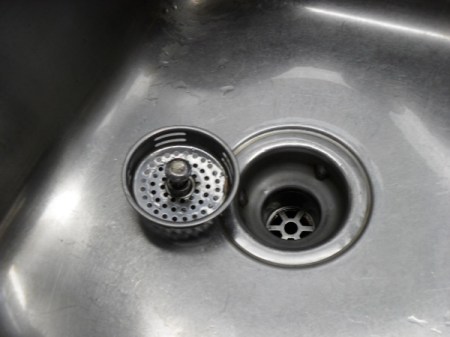 After several years of using harsh agents to clean my stainless steel sinks and destroying my hands in the process I have started using Brillo type soap pads (store brand of course). My hands are getting better and the sinks look fantastic!
Stains resulting from harsh chemicals, etc. on your kitchen stainless steel sink can generally be removed by a gentle application of MAAS Metal Polishing Creme.
Read More...
May 16, 2008
0

found this helpful
Spray some men's shaving foam into your stainless steel sink and spread it around with your hand. Let it set for about 5 minutes and then wipe it up with newspaper. Your sink will be shiny as new.
Read More...
Questions
Ask a QuestionHere are the questions asked by community members. Read on to see the answers provided by the ThriftyFun community or ask a new question.
October 20, 2000
0

found this helpful
I would like to restore my stainless steel sink to its original newish shine. Can anyone help?

Janet
Answers
I use 000 steel wool on mine. I go with the grain of the sink and it shines it right up. SOS pads also work quite well. Use the old style metal not the plastic ones.
Susan
Use alcohol to clean stainless steel sinks for a clean sink and a clean smell.
Cindi
This is a reply for the person who wanted to renew her stainless steel sink. i have heard that vinegar is supposed to make your stainless sink shine like a mirror.
Sandra
I just read in a new book that to clean that stainless steel sink use hydrogen peroxside. I tried it and it makes it shine.
Mabel in MN
February 3, 2001
0

found this helpful
I use a product I bought at a "Smart & Final" store. It is called, logically enough, Stainless Steel Cleaner. The manufacturer is Iris. If the cheaper alternatives don't do the trick, perhaps this will.
By Jeffrey Berezo (Guest Post)
October 5, 2004
0

found this helpful
We just had granite countertops installed with a $600 stainless steel undermount sink. Put the baking stone in there to wash, scratched the bottom of the sink horribly. The finish is a brushed stainless steel. Is another finish better or more durable? I may ask the installer to change it out.
By toni (Guest Post)
August 29, 2008
0

found this helpful
Use olive oil and will shine great!
By Connie S (Guest Post)
October 10, 2008
0

found this helpful
I agree with Mike and Stephanie, the stainless steel sinks today are junk. I am a teacher and they remodeled my room and replaced my 50 year old stainless steel sink with a new one that started rusting in just a few weeks. My other one did not have a speck of rust! I did not do any fancy cleaning or drying with my other sink and it was always beautiful. I think they are cheating on the metals being used in them. Perhaps they are made in China where everything is not made to standard. If they put melamine in their babies milk I wonder what might be in our stainless steel sinks that are causing them to rust! I do not want to do constant cleaning rituals with my sink, I have a class to teach. Please give me back my old 50 year old sink, it was really stainless!
November 2, 2008
0

found this helpful
CAN ANYONE TELL ME IF THEY HAVE USED AND REFINISHED A STAINLESS STEEL SINK WITH THE STAINLESS STEEL PAINT? PLEASE HELP
June 10, 2009
0

found this helpful
Hi. I use borax on the stainless sinks and the bath tub. It has many more uses, even laundry.
Answer

this Question

...
I got a new stainless steel sink. It had dark marks on the inside, so I cleaned it with Gel Gloss, which is recommended for stainless steel. The marks came off, but the cloth I used was black, like I had removed tarnish from silver.
I now have cleaned it a second time, about a week later, and once again the cloth is black. I'm concerned I'm removing the finish from the sink. Has anyone else experienced this black residue when cleaning their sink?
By Beetlebeau from PA
Answers
January 7, 2010
0

found this helpful
I"ve had stainless steel sinks for many years. Wouldn't have any other kind! I've always used simple brill-o pads to clean them. Once it's cleaned good once, then just a dab of dish soap will keep it clean after that. And brill-o again if it gets real dirty or stained.
January 8, 2010
0

found this helpful
If your sink is new don't use Brillo! Instructions for caring for your sink should mention this. If the sink is old, Brillo probably won't hurt it.
On a new sink though, it will ruin the finish faster. I just use Bon Ami or Barkeepers Friend on a sponge if it needs extra cleaning. Usually just a scrubby sponge and dish soap leaves it beautiful.
January 8, 2010
0

found this helpful
I don't know what the black residue is, but stainless steel is virtually impossible to hurt. That's why it is called stainless. Don't worry about it.
February 21, 2010
0

found this helpful
The 'black' is a normal result from cleaning/polishing metals (S.S., Copper, Brass, etc.)
Gel Gloss is excellent. If you ever have scratches or stains that seem impossible to remove, get MAAS.
available practically everywhere.
http://www.meta net/page/1017618
August 10, 2010
0

found this helpful
I have had a stainless steel sink for 5 years and it looks like new, how do I keep it that way? I just scrub it with dish washing liquid and water, if it seems really dirty I use baking soda with a wet cloth to make a paste and scrub the sink. For an occasional rust mark after letting rinsed cans drain I use the Mr. Clean eraser, presto, clean sink, so shiny!
Answer

this Question

...
I need a thrifty cleaner for stainless steel sinks. Can you help me?
By s1johnston
Answers
October 7, 2012
0

found this helpful
Barkeeper's Friend is cheap and works great. Also works great on stainless pots and pans and glass stove tops!
October 7, 2012
0

found this helpful
I suggest using baking soda. It is a mild abrasive so it won't hurt the sink, and you can't beat it for cost.
Answer

this Question

...
How do I remove stains created by a tarnish remover used to polish silver? I laid a sponge in the sink and now I have an outline of a sponge!
Answers
December 8, 2015
0

found this helpful
Use the same silver polish to clean the rest of your sink so it all matches.
Answer

this Question

...
Is there a way to get light scratches out of a new stainless steel sink?

Sam from Clearwater, FL
Answers
By Myrna (Guest Post)
June 4, 2006
0

found this helpful
Have you tried buffing with SOS pads? On her website, Flylady talks about using them in another step to a shiny sink.
Answer

this Question

...
Archives
ThriftyFun is one of the longest running frugal living communities on the Internet. These are archives of older discussions.
January 3, 2010
0

found this helpful
How do I get the smell out of a stainless steel sink?

Raybay from West Orange, NJ

Answers:
Cleaning a Stainless Steel Sink
Go to your local supermarket or hardware store and buy some Barkeeper's Friend. It will clean your sink beautifully and remove any smell. (12/29/2006)

By irene
Cleaning a Stainless Steel Sink
There are several quick and inexpensive techniques for cleaning a stainless steel sink.

First, using either a damp wash cloth or a scrubbie, scour the sink with baking soda. Baking soda is a natural sanitizing agent. It is a water soluble mineral, and mildly abrasive. It is often recommended for surfaces that you don't want to scratch.

If, your job is tougher than baking soda can manage, mix table salt and vinegar to make a past. Scour away. Vinegar and salt combine to make a "very" mild hydrochloric acid. Additionally, the salt is abrasive and both salt and vinegar are effective sanitizing agents. Cleaning with a sanitizing agent destroys the organic compounds that cause most odors.

If these two don't work, ask yourself "Why am I keeping this sink?" (12/29/2006)

Cleaning a Stainless Steel Sink
Try rubbing your sink with a cut lemon or try using Soft Scrub. I work in the home cleaning business and the Clorox smell helps to disinfect really well. Also, you can put baking soda and vinegar down your drain and flush with hot water about 15 minutes later to make sure the odor is not coming from there. (12/29/2006)

By Sherry
Related Content