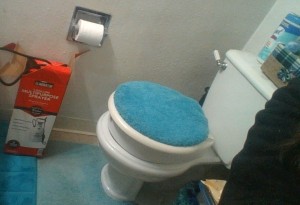 So, I've already mentioned I broke my spine. Well, I also broke my spinal hardware bilaterally which runs from T-10 to my ilium.There's a distinct danger of severing my spinal cord, but at the same time, I developed venous stasis with cellulitis as I could not lay flat for 16 days to put my feet up, until my friend bought me a lift chair. I have paid back the money. Thus, my legs swelled and peeled from venous stasis like balloons and got red and infected even above my knees! I fixed myself by not only taking the antibiotics they prescribed, 2 rounds, but also, and I cannot overemphasize the importance of this: I used simple over-the-counter collagen pills. I also used fish, flax, and borage oil caps, but it was the collagen that saved me.
My stubborn self refused to be put down no matter what life threw my way, so I continued to do my chores, not wishing to become too much of a burden on anyone. Now, you see, here's a few tips I'll give that are of utmost importance should you ever find yourself in a vulnerable position like me. Independence is a must to whatever degree you can maintain it, right?
Tip 1: Even if you don't need it, take basic collagen pills asap. They work so fast! No more swelling after only 1 bottle and I've had fighting edema for most of my adult life after having kids.
Tip 2: No matter what life throws your way, put your feet up often and keep walking even when it feels like the devil is sitting on your shoulders trying to crush you down. WALK! I cannot walk far. To my mailbox and back, but I walk. Otherwise, I would have gotten an embolism by now. Ultrasound revealed I have no lasting damage to my leg veins. They are healed!
Tip 3: Do your own chores no matter how much it hurts. Bend a little, stretch a little, walk a little. It's gonna hurt a lot. Do your own dishes and laundry and buy helpers like reacher-grabbers and sock pullers. I no longer need my sock puller. This is embarrassing, but I began this journey unable to make it to the bathroom in time so I had to use incontinence products. I still keep my bedside toilet near my lift chair, but I don't have to rely on that other stuff anymore. After surgery will be a different story, though, I'm sure.
Why have I waited so long for my surgery? My insurance stalled me and stalled me. I couldn't lay flat for an MRI and no one would give me surgery without one. I still cannot lay flat. Listen: Don't let them do this to you. Were you aware there is such a thing as an open upright MRI machine? Who knew? Them! They just kept that information hidden from me. I finally switched insurance companies and now it looks like my surgery may actually happen.
When I stand, you can see the horrible deformity. People will come to resent having to help you if you don't help yourself as much as you can. Understand? Yes. Even if they are family! They want you to still be able to help them, too, sometimes, so you best take care of yourself so you CAN.
Final tip, and this one is so wonderful. I purchased a 1 gallon pump sprayer for spraying bleach water on the shower walls. Once I broke my back, a toilet seat riser became pretty important, so I bought one that goes under the toilet seat so you can still close the lid. How to clean it, though, when it is bolted down with long metal screws was the question. Simple answer. The pump sprayer! Yes! Brushes never worked well before the riser, and this was perfect! Never use a pump sprayer for multiple purposes. This is only for bleach water. You can make the bleach water and just spray each time someone goes potty. No physical scrubbing required.
I bought some SnoBol and removed the hard water and rust stains first. That's another tip: Nothing works as good as Sno Bol. Nothing. Not being paid to say that, either. Maintenance with the spray pump and bleach water means everything. I don't have to tote it around. I just keep it in the bathroom. I know I look like an extra for a zombie movie in my wheelchair picture, but understand. I was in a lot of pain and on pain medicine back then,which I have since ditched. Guess I'll have to resume using it after surgery, but for now? No way! If the pain gets too intense I can just go sleep it off.