I am a disabled senior trying to live as frugally as I can, considering Social Security isn't anything to brag about.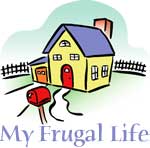 I get around in a motorized wheel chair. Our state has a law that seniors and disabled do not need to pay bus fair on our city buses. I can ride any bus, they all are wheel chair accessible, free.
When I shop, I almost always buy generic. In my building, residents who get groceries from food pantries, may take items they don't like downstairs and put them on our 'give away table'. I do the same.
I have a home aide three days a week, two hours each day. This is government program covered and never costs me more than one or two dollars a month, usually nothing. On our 'cooking' day, we make up 3-4 of the same meals and freeze them. Saves time and mess for me during the week. I go out usually two days a week.
Tuesday it is to a grocery store that has a senior bingo every week. Everyone is guaranteed one prize, but can win more. One week I won 8 items. Prizes are grocery items that are in a cart provided by the store. Items are $1 or less. There is also a gift certificate for $10 for the store.
On Saturday I go 'bumming'. My one splurge for the week is I eat either breakfast or lunch out, I may do shopping, or go to a movie. There is a theater group here that has the policy that says if you are in a wheel chair, you don't take up a seat, you get in free. Haven't paid for a movie in four years.
The only problem to my plans is the weather. In summer, etc., rain can keep me from going out if it is bad enough. In winter, snow creates problems, because there can be slippery conditions or just can't get over/around it, if it is not cleared. So sometimes I have to alter my plans as necessary.
I do what I can, when I can, watch for sales, save when I can, every little bit helps.
By knitter926 from Bloomington, IL
Do you have a frugal story to share with the ThriftyFun community? Submit your essay here: http://www.thriftyfun.com/post_myfrugallife.ldml
I am disabled. I have several things wrong in my lower back. None of them are related to weight or a bad life style. I say that because it seems like a lot of people look for ways to blame the disabled for their problems. I use a rolling walker or two canes to get around. I have poor balance, some difficulty with moving my legs, and I have a lot of pretty serious pain in my back if I stand or walk for awhile. Pain killers cut the pain, but not by much. My disability is very obvious. You can't miss that I walk with difficulty. It slows me down a lot, but doesn't usually stop me. And boy, that walker sure does get in the way when I'm climbing trees and breakdancing! (lol) I have a few tips for some of the people out there. Just some - most of you are very nice and some of you are very helpful. Gosh, do I like the nice and helpful folks out there! Bless you all a hundred times a day!
Please don't ask your doctor for a handicapped parking permit if you don't actually need one. A lot of people ask for them simply because they are very fat or older, and though able bodied, feel they deserve it. And if you're a doctor, and a patient wants one and doesn't actually need it, say no.
If you are able bodied and park in a handicapped spot, STOP IT! I know you are busy and in a hurry. So am I. But what you are doing is illegal, and can cost you a lot. It is also taking a space from someone like me, who really needs it. I see it almost every time I go shopping - people who are obviously very able-bodied parking in the handicapped spots. All of the spots are taken and half of them shouldn't be. I see this especially when I drive a friend to the store and I sit in my car and wait. No exaggeration: I have been there when every single spot was taken by non-disabled people - young people running in, walking fast, no difficulties with moving or breathing. I find a free spot only about half the time. Walking into the store is hard. Heck, getting out of the car is hard. Walking in is very slow and very painful. Please don't make a disabled person walk from the far end of the lot because you are running in from a handicapped spot. Police departments could make a heck of a lot of money ticketing people parking illegally in handicapped spots.
If you are a truly disabled driver with a permit and you drive someone else, but you aren't getting out of the car, please don't park in a handicapped spot. When you do, you are taking it from someone like you that really needs it. If your passenger whines, don't give in. Laziness is not a disability.
I have, many times, heard people complain about the best spots being reserved for the handicapped. I am not sympathetic. I realize it means they have to walk a little further, but I'd trade place. I'd love to be able bodied, pain free, and unafraid of falling again, and you can find out what disabled life is like. Please open your eyes and really see the old person walking so slow, maybe pulling their oxygen tank. Stop and see that person walking slow and careful who has a heart condition, and needs to reserve their energy. Actually think about that person struggling to walk or in a wheel chair. Want to trade places with any of them? I didn't think so. Even worse, I have heard people say that disabled people should just stay at home. I've even heard people say they just don't want to see us because we're funny looking, or maybe we just make them feel bad for a few seconds. Well, we have just as much right to be out as anyone. Would you really wish a life of isolation and being shut-in on anyone just for your convenience?
Once in a store that has the electric carts for the disabled, please don't take one if you don't need it. Being tired or fat are not reasons to use one (please don't be offended, I am not trying to insult fat people. I'm a bit fat myself, and I know that most fat people would never take the cart). Please don't let your 12 year-old take one for fun. These carts allow me such lovely freedom in a store. I'm not in pain and it's a lot faster. If you work in that store and see kids driving a cart, take it from them. If a store is nice enough to have the carts, please find a place close to the door to park them so I don't have to walk all the way across your big store to get one. If you see someone struggling to unplug the cart and use it, please go help them. Please be aware that the electric carts don't stop on a dime and some of them take a long time to stop, so don't suddenly cut in front of the carts. It hasn't happened yet, but I've come close to hitting people and their shopping carts. It's scariest when people aren't watching their little ones and they dart in front of me.
If you see someone in a public place who is using a walker, canes, a shopping cart, etc. to help them walk, please be considerate. I know we are slow, and I know you are in a big hurry and perhaps you don't want to wait for us to walk past. I do know that it's annoying to have to wait, but it is hard for the disabled to get out of the house and do normal things. Please don't make it harder. Every single time I am out, people hurry to dart in front of me through the door or look at items on the shelf or get to an aisle before me, or a hundred different reasons. I have to stop suddenly, and have nearly fallen a few times. I then have to stand and wait for them, in pain the whole time. I am in a hurry too, because I want to get my errand done before pain stops me. Some stores don't have the electric carts, but I still need to shop there. Your consideration means a lot. If you happen to get to the door, aisle, or whatever first, it's yours. I'll wait. Just don't cut in my way.
If you are disabled, please thank other people when they are considerate. It's courteous, it makes you feel good, and it encourages everyone who hears you to be more courteous. Once in a while, someone is really nice, and holds a door for me, or gets something off an upper shelf. It's so great! And once in a while when they offer, I don't need the help but I still say thank you with sincerity and a smile.
I am struggling to be independent and active. I like going out and doing things for myself. I hate asking for help. Yesterday I went to a small lake in a park near me, out in the country. My daughter helped me into the water. Joy! Once at about waist level in the water, I was free! No pain! No fear of falling! I could float, swim, even just tread water, and feel like I used to before I was disabled. No one and nothing is going to take my independence. I just wish people would stop making it harder.
By schyresti from North Royalton, OH
I am a single Mom of 3 teenagers living on a limited disability income. My problem is that my laundry washing machine went out and I had a very nice repair man look at it and said there was no way to fix it without it getting really expensive. I can not afford to even buy a used one. I now go to the local laundromat. My problem is that I can not carry in my baskets in so I pull them in using my cane. Which it gets really hard to do since I need to use the cane to walk. I have tied a belt to them but the basket ends up breaking up.

I am looking for any ideas to make my own laundry cart that can fold up so it can fit in your car. I have looked at the ones in the stores and they are not large enough to hold 5 baskets of laundry, measuring 24in. by 18in., and be able to fold up. I do not have the tools to make my own but I do have a friend who is willing to build me one if I can find some instructions on how to build your own cart. I hope that someone knows how to be able to build one that is easy to fold up and easy to assemble. Any ideas are really appreciated . Thank you for your help on this and also for all the great ideas, tips and recipes on this web site.

Norma from San Antonio,Texas
Answers
By guest (Guest Post)
May 25, 2007
0

found this helpful
I use a small childs wagon. you may have to do a few trips. I used a rope on the basket for a long time be fore the basket broke.
By guest (Guest Post)
May 25, 2007
0

found this helpful
Can't your teens help you carry the laundry?
Maybe your friend could make a larger, sturdier version of a folding cart for you. If he/she could look at how the other carts are made, then a new cart could be made in the same style only larger.
May 25, 2007
0

found this helpful
There are folding crates with handles like modern luggage that fold flat which we use for a boat cart. It's amazing how much you can pile up on one of them - and if you put your laundry in BAGS instead of baskets, you might make it. (They are available in office supply stores and are under $40.) But really, you gotta get your kids to help you out! (Or you might find some rolling luggage at a thrift store & put your laundry in that!)
May 25, 2007
0

found this helpful
try freecycle.org for your area, I've seen the freecycle in my area donate and receive used appliances as well as lots of other household goods. You may not need a laundy cart after all. Hope this helps!!! -kim
By guest (Guest Post)
May 25, 2007
0

found this helpful
craigslist.com also has a great place to get free appliances, along with freecycle.org. I would definitely check with one of these to see if you can find a free washer and drier! This is what i am going to do when I buy a house!
By guest (Guest Post)
May 25, 2007
0

found this helpful
I don't mean to sound rude, because I don't intend to be, but the first thing I noticed was that you said you had 3 teenagers at home.
I have two at home and they do their own laundry! There is something to gain from having them do their own laundry.....they learn discipline. If they want their favorite shirt for Friday night, they learn they need to check and make sure it is clean on Thursday night. They learn to check their own pockets or their little notes and money ruin in the wash. They finally learned to turn socks and clothes right side out.
Try it, Norma.....I KNOW you will like it. And you spend that time laying back reading a good book with a glass of ice tea at your disposal.
Then say, 'oh, since you are going to the laundry mat, please take this little basket of my clothes and wash them with yours.'
Please don't be a slave to your children. You are doing them no good at all.
Good luck and God Bless!
Sue
By guest (Guest Post)
May 25, 2007
0

found this helpful
I was going to tell you about the www.FreeCycle.org. It is a great recycling site and I see washers and dryers on there for free give away all the time in our area. Then all you have to do is talk one of your teens to help go pick it up and tote it into the house for set up for you!! Best of luck to you.
Also... I was in a similar pickle for a while when we had a huge water leak. I found that the multiple laundry baskets would not fit into my car so I folded lots of my clothes and then bundled them into sheets and pillow cases which really seemed to fit into my car seats much better .Then when I got home I just unbundled and they were still fairly folded and tidy. Hope this helps.
By guest (Guest Post)
May 25, 2007
0

found this helpful
The laundry mat does not seem to a part of your solution as it is very expensive to clean your clothes. Look at freecycle.com in your state and see if anyone is disposing of a washing machine. Also, washing machines can be found at storage auctions dirt cheap. If you are the only one bidding on a washer you will get it. Can you get any help from your teenagers in helping you with the laundry? Can they contribute a few dollars from jobs, babysitting, mowing lawns to help buy a used washing machine? Hope this helps you!
May 26, 2007
0

found this helpful
How about using an old skateboard? Get someone to drill a hole in one end and tie a cord (or old bathrobe belt etc.) for a handle. Set a basket on the board and pull it into the laundromat. It would take several trips but the skateboard would be small and easy to lift in and out of the car. I see old beat up skateboards at garage sales and thrift stores quite often. While you're there look for "anything" on wheels! Maybe an old stroller, baby buggy, toy wagon etc which could be altered or adapted to help you. I hate to sound like a broken record since it has been mentioned already............but your teenagers really need to be helping with the laundry! My four children (boys and girl) were required to help with the laundry starting at about 8 or 9 years of age, and I had no disability. Yes, they griped and fussed from time to time but they were especially grateful when they went away to college and knew how to do laundry, cook, clean and keep a car maintained (check fluids, tires, gauges)! All kids need to learn how to do all the everyday chores of life. You deserve the help now and they will benefit from the knowledge later!
May 26, 2007
0

found this helpful
While this may not be the solution you wanted to hear.. its the most
useful one. My daughter is ill so she tought my grandson age 14 to do laundry. He wasnt crazy about the added chore.. since he already does dishes and cleans his room.. plus more. But once he got started he actualy enjoyed it! He even said to me *Gramma its wierd to tell my mom she has clothes to fold* lol But he felt good that he can help. I am helping give the kids allowance.. that makes me feel good. the 9 yr old emptys trash cleans the end tables.. straightens the rooms.. etc. Kids can do alot.. and when they see everyone pitching in they want to help too. They also make their own supper somtimes.. microwave foods.. hotdogs etc. Its good for them to learn to be independant. Good luck w/ freecycle. I live in small town USA and I didnt find anything there for my area. Good health to you and the kids.
May 26, 2007
0

found this helpful
I too walk with a cane and learned long ago to put my dirty clothes in a king size pillow case, after washing them I would fold them up placing them back into the same pillow case until I got home.
I would suggest the same thing to you BUT make everyone have a different color pillow case AND bring them along to help you for heavens sake!
You are their mother NOT THEIR SLAVE...they owe you as you gave them live and nutured them to the point where they are now.
Good luck to you and try the king size pillow cases I personally know they work.
Answer

this Question

...
My husband has been in a wheelchair for 4 years following a spinal cord injury. He has gained lots of weight because he can't exercise. He is 57 years old. Any suggestions?
By Vguy from Earle, AR
Answers
April 16, 2009
0

found this helpful
Richard Simmons has an exercise tape/dvd just for folks who are unable to move around, such as your dh. Also I've heard that the Wii Fit and/or Sports games may be of some help for the same.
April 16, 2009
0

found this helpful
That Richard Simmons tape is called "Sit Tight" and is for people that cannot stand up to do exercises. I am assuming your DH cannot move his legs, but he can do the exercises for the upper body. So long as he keeps moving, that is what is important.
April 17, 2009
0

found this helpful
Jodi Stolove has some dvd's for seated exercise called, "Chair Dancing".
You might also investigate dvd's for "Yoga in a Chair" - I thought I'd seen one by that title on the internet.
April 23, 2009
0

found this helpful
Yes, get the Wii!
April 25, 2009
0

found this helpful
A friend in a hospital rehab nursing home setting said that the Wii (and this one was the bowling version) was very popular. My friend played it once from a wheelchair and would have played more, but there was never another vacancy while she was there.
Avon cosmetics has a "buy something get some equipment for sports games for Wii at a discount" going on shortly. Possibly you can call your local Avon rep or contact them on the web to find out more. I've seen the plastic pieces before in stores and they look lightweight. The one caveat is to make sure you ALWAYS wear the tether controller strap around your wrist. I know someone who was too cool to use a tether strap, and he said he'd always have such a good grip that it really wasn't necessary. Famous last words. He had to buy a new tv and is still picking up glass shards from the carpet.
July 26, 2009
0

found this helpful
Not everybody can afford the WII. I've been wanting it for over a year, and haven't been able to save enough to get it. Everytime I get a little bit saved, something more important comes up. I'm living off exactly $650.00 a month retirement social securtiy. Everytime I talk about wanting it, my two grandsons offer to help me learn how to play it. I think they have ulterior motives.lol I keep telling them I wouldn't buy a bunch of the games that they think are necessities.
Answer

this Question

...