I am a disabled senior trying to live as frugally as I can, considering Social Security isn't anything to brag about.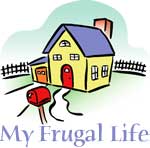 I get around in a motorized wheel chair. Our state has a law that seniors and disabled do not need to pay bus fair on our city buses. I can ride any bus, they all are wheel chair accessible, free.
When I shop, I almost always buy generic. In my building, residents who get groceries from food pantries, may take items they don't like downstairs and put them on our 'give away table'. I do the same.
I have a home aide three days a week, two hours each day. This is government program covered and never costs me more than one or two dollars a month, usually nothing. On our 'cooking' day, we make up 3-4 of the same meals and freeze them. Saves time and mess for me during the week. I go out usually two days a week.
Tuesday it is to a grocery store that has a senior bingo every week. Everyone is guaranteed one prize, but can win more. One week I won 8 items. Prizes are grocery items that are in a cart provided by the store. Items are $1 or less. There is also a gift certificate for $10 for the store.
On Saturday I go 'bumming'. My one splurge for the week is I eat either breakfast or lunch out, I may do shopping, or go to a movie. There is a theater group here that has the policy that says if you are in a wheel chair, you don't take up a seat, you get in free. Haven't paid for a movie in four years.
The only problem to my plans is the weather. In summer, etc., rain can keep me from going out if it is bad enough. In winter, snow creates problems, because there can be slippery conditions or just can't get over/around it, if it is not cleared. So sometimes I have to alter my plans as necessary.
I do what I can, when I can, watch for sales, save when I can, every little bit helps.
By Linda from Bloomington, IL from Bloomington, IL
Do you have a frugal story to share with the ThriftyFun community? Submit your essay here: http://www.thriftyfun.com/post_myfrugallife.ldml