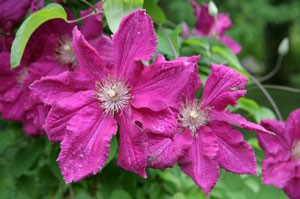 Question:
How long before clematis starts blooming? I planted from a gallon container.
Hardiness Zone: 5a
Mike from Mercier, Qc.,Canada
Answer:
Hi Mike,
Clematis can take a year or two to bloom after first being planted, and will require at least several more years before reaching full maturity. A lot depends on the age and health of the plant you purchased, the growing conditions you provide for it, and how fast it's able to establish roots after being planted. As the old adage goes, the first year perennials sleep, the second they creep, the third they leap. It sounds a bit corny, but it's true!
Expect your clematis to need a minimum of one to two seasons of "settling in" before you see blooms. During the first year (while it "sleeps"), the plant will direct the majority of its energy into establishing a strong root system. A good root system is critical for a vigorous vine, so be sure to fertilize and water your clematis regularly (try a 5-10-10 fertilizer) This will create a good foundation for years of beautiful blooms, and before you know it, your new clematis will reward you with years of prolific blooms.
Try these links for more information on growing clematis:
Good luck!
Ellen