Coffee Flan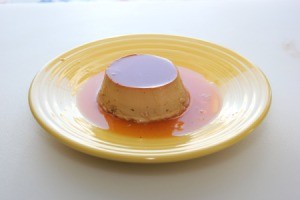 This coffee flavored flan is a delicious change up to the traditional custard. Coffee lovers will dig this delicious dessert!
Ingredients:
1 1/2 cup milk
1 1/2 cup heavy whipping cream
3 eggs
3 yolks
2 1/4 cup sugar
2 tsp vanilla extract
2 Tbsp strong brewed coffee
Steps:
In a heavy bottomed pan, heat 1 1/2 cups of the sugar over high heat. Stir constantly with a wooden spoon. It will take about 5 minutes.
You want the sugar to turn a deep brown. Be careful because it can easily burn. It will continue to darken even after you turn off the heat.

Preheat oven to 325 degrees F. Pour the caramel into the bottom of each ramekin, completely coating the bottom. Be sure to use up or throw out the left over caramel and not leave it in the pan, once it has cooled it is extremely difficult to remove from the pan (Not that this advice comes from personal experience or anything). ;)
Bring the milk to a simmer on medium, stirring often.
In a bowl, whisk together the eggs and yolks and 3/4 cup of sugar for about 2 minutes until it looks pale.
Once the milk is brought up to a simmer, remove it from the heat and stir in the vanilla.
Then, slowly pour the milk mixture into the egg mixture, whisking constantly. Remove any froth that may have formed. Then, pour through a mesh strainer. Pouring it through a fine mesh strainer will remove any lumps and will give your flan a smooth texture.

Mix in the two tablespoons of espresso.
Place the ramekins into a pan that is at least as tall. Then, divide the custard evenly filling your ramekins. Carefully fill the pan with the hottest tap water or boiling water halfway up the ramekins. Place in the oven and bake for 50 minutes until the surface doesnt jiggle. Remove from the water bath and let cool for about an hour. Then cover and place in the refrigerator for 2 hours and up to 2 days, serving at your leisure.
To serve, run a thin knife around the edge of the ramekin then turn the flan out onto a plate.
Add your voice! Click below to comment. ThriftyFun is powered by your wisdom!
Add your voice! Click below to comment. ThriftyFun is powered by your wisdom!
Related Content