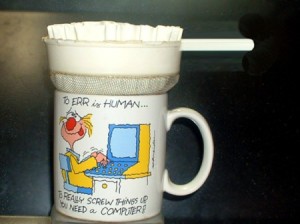 The pleasure of drinking coffee is twofold. One is perceiving its scent, the other is perceiving its taste. Most perfumes are a blend of scents. One of these scents is perceived by the brain before the others. This one scent is called 'the top note'.
Coffee has a top note, as well. It is delicate and lasts for only a few minutes. Most of it is destroyed during the boiling stage of brewing. I prepare my coffee in such a way as to preserve that top note. I want it 'right now' fresh with that top note intact, so I make it one cup at a time.
I put a cup of water into a glass electric kettle and turn it on. I have a sieve with a stainless steel wire basket. It is just the right size to fit over my coffee cup. I set the sieve on my coffee cup. I put a filter in the sieve and coffee grounds in the filter. In that short time, the water is boiling. I pour half over the coffee grounds. A few seconds later, when that settles, I pour the other half.
The coffee is quickly and gently brewed, not cooked. You can taste and smell its top note. It is delicious. If you are a coffee fanatic and try this method, you may never again want coffee that is cooked for a few minutes and then sits for even ten minutes.
I know. My method is not practical for a family gathering. But for those times you want to treat yourself to something special, go for it!
That old stained sieve looks as if I have used it for this purpose for many years. I have.